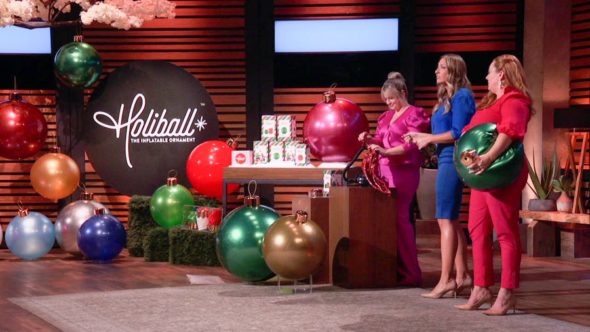 Cousins Jennifer Couch, Amberly Hall and Kristy Moore hope to have a ball in the Shark Tank 2020 Holiday Special when they pitch Holiballs, their giant, inflatable Christmas ball ornaments. The ladies have had some success in the Dallas area selling the "Texas-sized" Christmas ornaments and now they want to go national. They sell off their website and they've done some custom Holiballs for area businesses.
The ladies have had local success at open markets and at various trade shows, but they really haven't gone beyond selling in those venues other than local mom and pop shops. The Covid-19 pandemic likely slowed their sales efforts, so they're hoping a Shark Tank appearance can boost interest.
Holiballs come in two sizes: 18 inches and 30 inches and come in around 20 colors. They cost $40 and $60 respectively. The balls, when deflated, are about the size of a softball. Made to be climate resistant, they ought to last for years. Each ornament looks exactly like the ornaments you'd hang on your tree, just bigger. The ladies likely want to break into big box retail and they're hoping a Shark can help.
My Take on Holiballs
With five kids, I've done Christmas up BIG in the past. As the years go on, my family has toned it down quite a bit. We just decorate our tree and that's it. No more outdoor lights or decking the whole house out. Our gift exchange is moderate too. We've made a family decision to cut out the wretched excesses of Christmas and making it a more intimate holiday. That said, I am not a customer.
Our neighborhood has many houses that go all out with their outdoor decorations. We even have one house that has a fully operational Santa Train. I enjoy looking at the displays and revel in the fact that somebody else is  going to all the trouble. I've seen giant ball ornaments similar to the Holiball in several displays. I know there are people out there who will buy these, it's just not me.
Will Sharks Have a Ball and Invest?
While the Shark Tank Holiday Special usually results in some deals, I am not sure the Holiball ladies will get one. I have two reasons for thinking this. The first is price. At $40 or $60 a pop, they're on the pricey side While I don't doubt the quality, I think most people would rather get a 3 ball set for $79 on Amazon. There are similar products that cost more, but most cost less.
The second reason I don't think they get a deal is the product isn't proprietary. Search "giant inflatable Christmas ball ornaments" and you'll yield dozens of results, most of which are not Holiball. The ladies say they want to build a brand and they are very capable of doing it, I just don't think a Shark will be along for the ride.