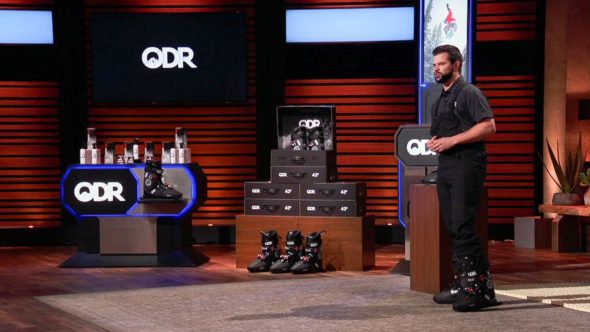 Kevin Greco didn't create Sled Dog ODR Ski-Skates, but he's pitching them in the Shark Tank Holiday Special nonetheless. Sled Dogs is a Norwegian company that created the skates in 2014. They became popular in Europe and many NHL players like them. You see, Sled Dogs let you ski on snow, so you can wear them to the slopes without cumbersome skis, poles or snowboards.
A Sled Dog is a skate like attachment that clips to ski boots. The sensation and ease of skating coupled with the thrill of downhill skiing made caught Kevin's eye in 2017. Growing up in Utah, he did his fair share of skiing and he liked the idea. He became head of Sled Dogs USA and started using his marketing skills to sell the product. The product was rebranded as ODR Skis for the American market and there are rentals and sales at top ski resorts throughout the USA. He also sells online from his website.
Once you attach the ODR Skis to your boots, you're ready for downhill "skating" action or even a trip to the half pipes the snowboarders use. He has hockey players Jaquelyn Peters and John-Michael Liles as spokespersons/ambassadors to highlight how the merger of skiing and skating is achieved. Greco likely wants to create more awareness for his product and he's hoping a Shark will help get the word out.
My Take on Sled Dog ODR Skis
In my younger days, I was an avid skier. I've skied multiple slopes in Utah, Vail and all over New England. I could tackle pretty much any slope with ease. Unfortunately, my knees and back don't allow me to ski any more and, as a Florida resident, I have neither the opportunity or inclination to do so.
When I first saw Sled Dogs, I was reminded of K-Tel's Super Slider Min Skis from the 1970's. I had a pair of these when I was a kid and they were a fun addition to a day of sledding. I never dreamed of taking them to a real ski slope. The ODR skis are far more advanced and actually work like real skates on snow. At about $400-$500 per pair, they're less expensive than a set of quality skis too. If I were still skiing, I'd be in.
Will Sharks Skate Away with a deal?
Skiing is not a sport for the masses. It takes money to ski. Lift tickets are in the $60-$200 a day range, and that doesn't include the cost of skis, clothing, lodging, etc. That said, people who ski spend big on the sport. If this can catch on, he'll sell a lot of them. The Sharks might think it's too niche though.
The other thing that could complicate the deal is the relationship with the Norwegian parent company. There has to be a clear ownership interest on Kevin's part or it could muck things up. I'm not totally confident he'll get a deal unless the numbers are really good for the Sharks. I don't think Kevin will want to give much up, so while he may field offers, I think he'll decline.