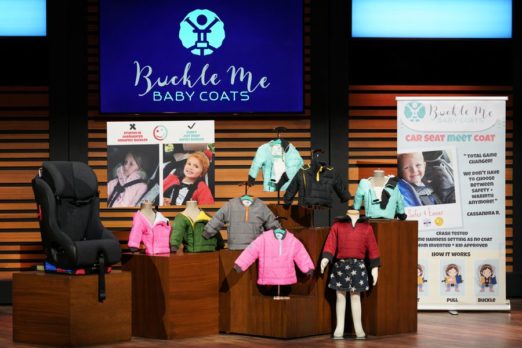 Dahlia Rizk invented Buckle Me Baby Coats out of necessity. She's from New Hampshire, where it's basically cold and crappy weather from December through April. If you have kids, you need to bundle them up so they don't freeze to death. This poses a problem – and a safety hazard – when you go to put that bundled up baby in a car seat. When the kid is layered up for warmth, the car seat straps don't fit the child properly. The straps secure the garments around the child, but in an accident or quick stop, the child can get flung from the seat because they aren't strapped in properly.
Buckle Me Baby Coats solves this problem. They wear like any other winter coat, but in the front there's a flap that you open up so you can strap the child into the car seat snuggly. Once strapped in, fold the flap over and the kid is both warm and secure. It's a smart concept and one cold weather climate parents are craving. They're even approved by the Consumer Product Safety Commission.
Function and Form
Buckle Me Baby Coats come in sizes to fit every child from an infant to a five or six year old. They come in varying thicknesses – Toasty, Toastier and Toastiest – depending on the severity of the cold weather where you live. Prices Range from $89 to $149 depending on the style, size and toasty level. Since Dahlia knows kids grow, she offers a discount when you trade in a coat for a larger size. The gently used coats are then donated to children in need.
Back in 2017, she got the Kickstarter community to pledge a little over $6000 to start the business. She's kept it small since then, but now she wants a Shark to help her grow larger. Will a Shark Buckle up and invest?
My Take on Buckle Me Baby Coats
If these were around when my kids were little, we would have owned them. My wife and mother viewed shopping for the kids as both responsibility and sport. They always had new clothes – especially the girls. Safety was always an issue too. For long winter trips, we'd warm up the car and strip the kids down to their reglar clothes before strapping them in. Blankets provided a way to keep the chill off.
Parents always want the best and safest for their kids. They'll spend if they know their child will be safer. The trade in policy coupled with the social benefit for needy kids is a good selling point, too. While I will likely never need this product, I think it's a smart idea and I think Dahlia will do well with it.
Will Sharks Buckle Up and Invest?
This product is going to get a deal. Dahlia basically bootstrapped the business – which the Sharks LOVE. The coats are well made and attractive too. Add the safety aspect and the charitable angle and Dahlia has a winner. I can see all the Sharks bidding if the numbers are right. The question is, which Shark will do the deal?