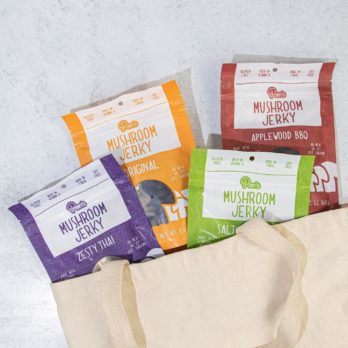 Apparently, Buddhist monks have been eating mushroom jerky for decades, if not centuries. That's what intrigued Michael Pan the most when he went to visit family in Malaysia a number of years ago. He visited his father's family with his dad as a child and came away with a love of the culture and the food. He has relatives who are Buddhist monks and they taught him how to make jerky from mushrooms.
Michael grew up and studied electrical engineering. He worked for a variety of companies in the auto industry, but he never forgot the taste of mushroom jerky. It was an old family recipe and he started making it in his home. Even as an adult, he knew the recipe was something special. At the beginning of 2016, he decided to take the plunge and start a business. Pan's Mushroom Jerky was born!
With more and more people turning to vegan diets, he knew there was a market for his product. It also appeals to carnivores because it's so tasty. He started selling his ware in Portland, Oregon and gradually expanded to over 500 retail – mostly mom and pop shops – locations. He also sells on Amazon. There are four flavors: Original, Zesty Thai,  Applewood BBQ and Salt & Pepper. He's hoping a Shark can accelerate his growth by getting into national chains.
My Take on Pan's Mushroom Jerky
I LOVE mushrooms. I like them on pizza, in omelets, on burgers, even all by themselves, why not in a jerky treat? Mushrooms have a lot of nutritional value too. They're a great source of protein, vitamins, fiber, and antioxidants. I like jerky too. I've eaten alligator jerky, turkey jerky, beef jerky, venison jerky, even ostrich jerky.
The only thing about Pan's is the price: a four pack of 2.2 ounce jerky costs $35. That's almost nine bucks a pack. That said, with a Shark's help he might be able to bring the cost down. My son is a jerky fanatic so I'm going to get him a few packs of Pan's for his Christmas stocking.
Will Sharks Bite on this Jerky?
There were two other jerky companies on Shark Tank. Uncle Zips Beef Jerky in season 2 and Three Jerks Beef Jerky in season 7. Uncle Zip got no deal and Three Jerks took $100,000 for 15% of the company from Daymond and went on to sell millions of pack of beef jerky.
There have been many vegan products on the show over the years, some hit it big, others did not. I think Pan's will get offers. Mark and Lori are vegan and Mark has been on a crusade the past few seasons to invest in healthy food options. Lori has invested in several vegan food businesses too. If they like the taste, expect offers from Lori and Mark. Barbara also has food products in her Shark Tank portfolio, so she could bid too. I expect multiple offers for Pan's, but which Shark wins?