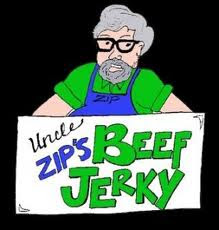 Ken Howell comes to episode 204 of the Shark Tank with his product, Uncle Zip's Beef Jerky. Howell's father came up with the original recipe, which has been in his family ever since. Since the jerky contains no additives or preservatives, it has a shelf life of approximately 2 months.
Howell faced his share of challenges at every step of the way. His father passed away before seeing his son reach success. Soon after, he lost a nephew, and then his wife. After a brief bout with depression, Howell turned to his father's business, determined to honor his father's memory by taking the family recipe to national recognition.
Will the Sharks want a bite of Howell's tasty jerky?
Uncle Zip's Beef Jerky Shark Tank Recap
Howell comes to the Shark Tank seeking $25,000 for 20% of his company. To this point, he's sold his Uncle Zip's Beef Jerky at sporting events and other local niche markets.
He begins his presentation by passing out samples, and claiming that his jerky is the best on the market, lacking the dry, tough texture of commercial jerky, and the chemical aftertaste caused by the preservatives. Even Jeff Foxworthy, who produces his own line of jerky, compliments the product, calling it "very good."
The Sharks enjoy his passion and confidence, but they want to talk numbers. Daymond John leads the charge, asking about sales. Howell explains that, at the peak of the business, his sales were $100,000 a year. Last year, the sales were down to $50,000, largely due to his losses. The Sharks are looking skeptical.
Robert Herjavec wants to know about Howell's plans for expansion. He's skeptical about Howell's assertion that a new processing plant, to the tune of $60,000 each, will be needed in each new geographical market. Herjavec points out that Howell has been doing this business for 10 years, and he's not able to make a living at the business.
Herjavec believes that "every dream has a shelf life. This is not an investible business." He's out.
Daymond John calls Uncle Zip's Beef Jerky a "small business, not an investment." He's out.
Kevin O'Leary loves the story, but he calls the business a "small regional brand. A micro-brand." He's out.
Only Barbara Corcoran and Jeff Foxworthy remain. Foxworthy tells Howell he has a great product. He believes that Howell can make a good living off his business. He's out because he's a competitor. Corcoran echoes Foxworthy's praise, but she, too, feels the business is too small for a Shark investment. She's out.
Howell leaves the Shark Tank without a deal.
Uncle Zip's Beef Jerky Shark Tank Update
The company benefited from the well-known "Shark Tank effect", receiving more orders than they could fulfill in the weeks and months following the episode's airing. The "small, regional" brand was set to explode into success. Unfortunately, Ken Howell's dream was not to come to be. In May, 2014, he passed away, soon after learning he'd been diagnosed with stage 4 cancer. Despite the efforts of his survivors, Uncle Zip's Beef Jerky does not seem to have survived the loss of its heart and soul.
After some brief down time, Howell's lifelong friend, Jeff Harris, kept the business going. Harris, who has a marketing background, was always involved in the business. Unlike the flamboyant Howell, he doesn't do a lot of face to face sales. He focusses on online sales, some local businesses that carry the product and the retail location he has in Fayetteville. Every time the episode reruns, he sees a bump in sales. As of July, 2021, the company is still in business and earns between $500,000 and $1 million in annual revenue.
Posts About Uncle Zip's Beef Jerky on Shark Tank Blog
Shark Tank Loves Uncle Zip's Beef Jerky – Still Out
Company Information
Video