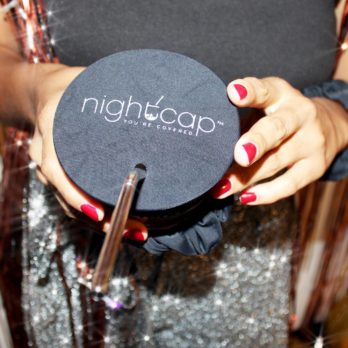 Shirah and Michael Benarde pitch Night Cap, their device for preventing drink spiking, in Shark Tank episode 1208. Shirah was 17 when she created the first prototype out of some old pantyhose and a scrunchie. She'd heard horror stories and wanted to give people, particularly young women, an added measure of protection from drink spiking. When Michael, who was in college at the time, came home and saw the prototype, he told his sister they should start a business.
Drink spiking is a big problem, particularly on college campuses. Alcohol.org states "56% of women report they've unknowingly had their drink spiked." The Bernrdes feel they have a way to make things a bit safer. They do offer the following disclaimer on their website: "NightCap can deter drink spiking in many instances, but cannot guarantee your safety. Always buy your own drink and never leave it unattended."
The product itself is simple. Inside a scrunchie, which you wear on your wrist or in your hair, is a small, fabric cover with a hole for a straw. It attaches to a drink cup with elastic. Put it on the cup, stow the scrunchie, insert your straw, and you're good to go. They cost twelve bucks on Amazon.
The brother and sister team have a lot of success under their belts. They've won many awards, including: Florida State University's InNOLEvation Challenge, Tallahassee Startup Week's Annual Pitch Competition, FSU's Turkey Tank, and FSU's Jim Moran Micro Grant. Now, they'd like a Shark's cash to help them grow their business even more.
Company Information
Video
Posts about Night Cap on Shark Tank Blog
NightCap – Roofie Prevention Device
Night Cap Shark Tank Recap
Shirah and Michael enter the Tank seeking $60,000 for 20% of their business. In what was only a ten minute pitch during taping, Lori immediately expressed the impact the product had on her and said it "needs to be in every woman's hands." She offers $60,000 for 25% and says she'll help blow it up on social media. Barbara says she's never heard Lori speak so passionately about a product and urges the Benardes to take the deal. They did!
Night Cap Shark Tank Update
The Shark Tank Blog constantly provides updates and follow-ups about entrepreneurs who have appeared on the Shark Tank TV show. This deal closed and the company is listed on Lori's website. Sales in the aftermath of the show blew up their newly redesigned website and they are about three weeks out on shipping due to the sustained publicity. As of November, 2021, Lori announced that singer-song writer Julia Michaels has "joined the team" because she's also concerned about drink spiking. In December, 2021, the company rolled out a keychain version of the product. The drink cover comes in a little pouch that can attach to a keychain.
The company gets an update segment in episode 1318. In the update, they say they did $2.1 million in sales in the year since they appeared on Shark Tank. They talk about their new colors and the keychain Night Cap. They also talk about the Julia Michaels investment. Apparently, they're doing 12% of their sales in the UK which has a big drink spiking problem.