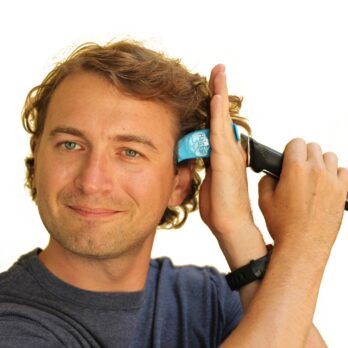 Tony Litwinowicz hopes the Sharks take a cut of HairFin, his measuring tool for hair cuts, in Shark Tank episode 1319. Litwinowicz is a retired engineer, in fact, he retired at age 34. He and his wife were both engineers and they decided to live frugally and focus on savings in order to retire early. Tony started Stoke, LLC, " a small startup that specializes in designing innovative consumer products" in 2016 after he left Sikorsky.
Tony introduced HairFin in the summer of 2020. He grew up cutting his own hair with hair clips, but they were only one inch long. There was a need for longer clips, so he designed a tool that fits between two fingers and has a curved, fin-like base that goes through hair easily. It allows the hair to be pulled straight for cutting at a uniform length.
The HairFin is manufactured in the USA in Derby CT. They only sell on Amazon and Etsy. A set of three HairFins costs $14.99 and comes with a two, three and four inch guide. They're also developing five and six inch guides. Tony likely wants a Shark to help with inventory and marketing. Will a Shark cut a deal with this entrepreneur?
Company Information
Video

Posts about HairFin on Shark Tank Blog
HairFin Shark Tank Recap
Tony enters the Shark Tank seeking $25,000 for 20% of his company. He explains how traditional clippers works. Then he demonstrates his product by actually cutting his hair onstage. The Sharks examine their samples and then Tony tells how he was educated. He has 12 utility patents for helicopter flight controls. Next he explains his strategy for early retirement. He continues to say he lives frugally and still cuts his own hair.
Sales since July, 2020, he sold $42,000. He sells them for $14.99 and they cost $2 to make. He sells direct to consumer on Amazon only. Robert admires what Tony's done, but it's too small for him; he's out. When Mark asks why he hasn't sold more, Tony says he's an "awkward engineer" who knows nothing about marketing. He wants a Shark's help with marketing. Mark says it's not for him; he's out. Lori goes out next.
Kevin asks why he'd risk his savings to start this business and says he doesn't have to cut his own hair; he thinks it's not investable – he's out. Daymond touts the success of Cut Buddy and offers $25,000 for 40%. The Sharks all groan at that offer. Tony counters with $25,000 for 28%. Daymond goes to 30%. Tony keeps countering and Daymond goes out as the other Sharks boo him. Tony accepts the deal with Daymond for $25,000 for 30% and they shake on it.
HairFin Shark Tank Update
The Shark Tank Blog constantly provides updates and follow-ups about entrepreneurs who have appeared on the Shark Tank TV show. On show night, Daymond Tweeted:
Look how they root against me smh. I had to do it for this guy #SharkTank
The next day, he Tweeted:
As of March, 2023, there is no evidence the deal with Daymond closed. The Shark Tank Blog will follow-up on HairFin & Tony Litwinowicz as more details become available.