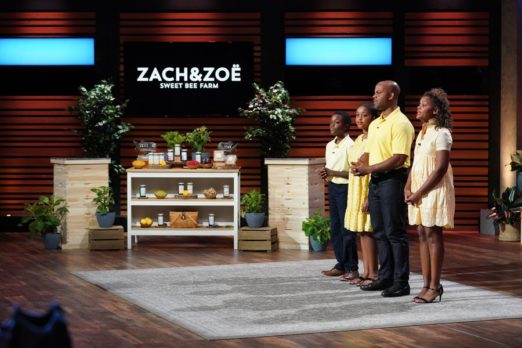 Zach, Zoe, Kam and Summer Johnson hope to get a buzz out of the Sharks for Zach and Zoe Sweet Bee Farm, their raw honey business, in Shark Tank episode 1310. Zack is the reason the family got into raw honey. He had bad allergies and raw honey acted as an immunotherapy. Since it's raw and unfiltered, it contains pollen and his immune system gradually improved and his allergies were mitigated. Initially, they went to many local bee keepers for their raw honey and in 2015 they decided to start their own hives as a family hobby and a way to get Zach his honey.
In 2016, they started selling the honey in Stockton Market, a farmer's market in Hunterdon County, NJ. In 2018, they opened stands up at two additional farmer's markets. Their big break came in 2020 when Oprah declared the honey one of her favorite things. In 2021 they became Chase Bank Brand Ambassadors.
The honey itself comes in one pound jars and they have flavors infused with lemon, lavender, cranberry, blue berry and more. A jar costs $20 or $24 depending on the flavor. Some of the flavors, like blueberry, are seasonal. Kam and Summer make the honey at the farm and at a local commercial kitchen. They have plans to build a warehouse on the farm in the future. The couple likely wants a Shark to help them fund expansion. Will the Sharks think this is a sweet deal?
Company Information
Video

Posts About Zach and Zoe Sweet Bee Farm on Shark Tank Blog
Zach & Zoe Sweet Bee Farm – Raw Honey
Zach and Zoe Shark Tank Recap
Kam, Zach, Zoe and Summer enter the Shark Tank seeking $150,000 for 10% equity in their company. They explain the difference of pure, raw honey. Next they say they hand pack all their products. Summer tells how they came to making honey. Their facility is in Lebanon, New Jersey. The family has 50 of their own hives and they source 80% of their honey from other local beekeepers. They tell how Zach was cured of his allergies by the honey.
The Sharks are devouring their samples and Lori's seen the product before. Kam says they're in Macy's and Bloomingdales and talks about their media exposure. Sales in 2018 were $62,000 and in 2019 they were $135,000. In 2020 sales were $401,000 and about half way through 2021 they were $880,000. Pre-pandemic, 70% of their business was in the farmers markets. Post pandemic, they flipped that number and do 70% online sales with no advertising. Each jar costs $6 to make, it wholesales for $13 and retails for $20. Summer says they are a premium priced brand – a little more expensive than their competition.
The business was accepted into Target's incubator program which should drive sales to $1.5 million. They have 23% margins and are profitable. Daniel talks about bees dying off. He wants to hear their role on beekeeping and they tell how they have a mission to educate about bee.
Mark thinks it's going to be difficult to scale and he goes out. Daniel is struggling to see how he'd fit in; he's out. Lori says she doesn't eat honey; she's out. Kevin says the family reminds him of Wicked Good Cupcakes which sold out to Hillshire Farms in June, 2021 earning everyone involved "millions of dollars." He makes the Johnsons the same offer he gave Wicked Good Cupcakes: $150,000 for zero equity and a $1 per jar royalty until he recoups $150,000. After that, the royalty drops to 25 cents in perpetuity.
After a break, Barbara says the family reminds her of herself. She thinks they are sitting on an empire and offers $200,000 for 20%. Barbara goes onstage with the family and Kevin says they shouldn't part with too much equity. The family huddles up and then they counter with 12%. Barbara says she'd do 15% and they do the deal.
Zach and Zoe Shark Tank Update
The Shark Tank Blog constantly provides updates and follow-ups about entrepreneurs who have appeared on the Shark Tank TV show. On the night of the original air date, Barbara tweeted:
"Welcome to the family, #ZachAndZoeSweetBeeFarm! #SharkTank @ABCSharkTank"
Since airing, the couple had another child. As of he first re-run of this episode in June, 2022, the deal with Barbara has not closed. As of March, 2023, the deal with Barbara did not close. At this time the company has its honey in over 100 retail locations including one in Glasgow, Scotland. They're also making beeswax candles. As of November, 2023, the company is bringing in around $1.5 million in annual revenue.
This page will be updated as new information on Zach, Zoe, Kam and Summer Johnson & Zach and Zoe Sweet Bee Farm becomes available.