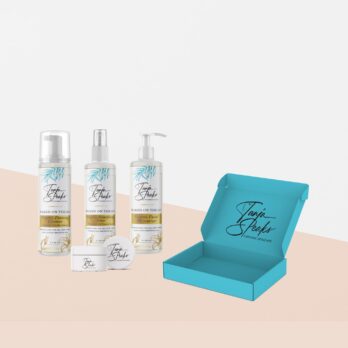 Tania (pronounced "Tan eye uh") Speaks pitches Tania Speaks Organic Skincare, her skincare company, in Shark Tank episode 1305. Originally called Brow Boost, she created her first product, Original Organic Eyebrow Gel, as a result of being teased for having bushy eyebrows. As second product for men called Beard Boost soon followed. She started the business when she was just 15 years old back in 2019. Now she's 19 and studying entrepreneurship at Hofstra University; she graduates in 2022.
The bullying about her bushy eyebrows led her to try to shave them one day. Unfortunately, she cut herself badly and needed stiches. She also needed to grow her brows back. When commercially available products caused her to break out in a rash, she started researching organic methods online and came up with a formula of Aloe Vera and vitamin E. The kids who used to tease her were so impressed with how her formula grew her eyebrows back, they wanted to try it too. She earned extra money  selling it at school for three bucks a jar and moved on to vending events and farmer's markets.
When the Covid-19 pandemic hit, her business shut down. That's when she rebranded the company to its current name. In just 60 days, she researched and formulated a skin cleanser, toner, and moisturizer. Now she has six products on her website: the eyebrow gel, beard oil, cleanser, toner, moisturizer and a kit containing either the gel (for women) or the beard oil (for men) plus the other three products. All products are $29.99 except for the kit which is $99.99. She also offers a discount if you opt in to a subscription option. She likely wants a Shark's help with marketing.
Company Information
Video

Posts about Tania Speaks Organic Skincare on Shark Tank Blog
Tania Speaks Organic Skincare Shark Tank Recap
Tania enters the Shark Tank seeking $400,000 for 10% equity in her business. She tells the story of how she was bullied and how she made her own products. She says she turned her trauma into triumph. The Sharks look at their samples. Tania tells the Sharks how the eyebrow gel works and how she shaved her brows off.
Sales are amazing. Last year, she did $1 million in sales and this year (midway through 2021) she is at $1.4 million. All sales are online. Last year she netted $700,000 in profits. The brow gel costs $1.10 and it sells for $29. The Sharks are very impressed with Tania. Her mom got the business going with a $10,000 loan from her 401K. She hasn't done any third party testing and Mark cautions her about that.
Mark says it's not his core competency, he's out. Kevin says he's impressed and humbled, but he's out. Barbara says she's done well, but she doesn't think she can help her, she's out. Daymond is blown away and calls her a rock star, but he can't add value, he's out. Lori said she'd be interested had she done the testing, she'd be interested; she's out.
As Tania is about to leave, Mark says "wait." He thought someone would make an offer. Mark says he can give her guidance, he offers $400,000 for 20% but it's contingent on meeting his daughters. Tania counters with 15% and a visibly shaken Mark says yes.
Tania Speaks Organic Skincare Shark Tank Update
The Shark Tank Blog constantly provides updates and follow-ups about entrepreneurs who have appeared on the Shark Tank TV show. The first re-run of this episode in June, 2022, is just five months after the original air date. At this time, there is no evidence that the deal with Mark closed. Tania experienced the "Shark Tank Effect" after the original air date and sold a ton of product. As of May, 2023, the deal with Mark has not closed. Lifetime sales are approaching $3 million.
The Shark Tank Blog will follow-up on Tania Speaks Organic Skincare & Tania Speaks as more details become available.