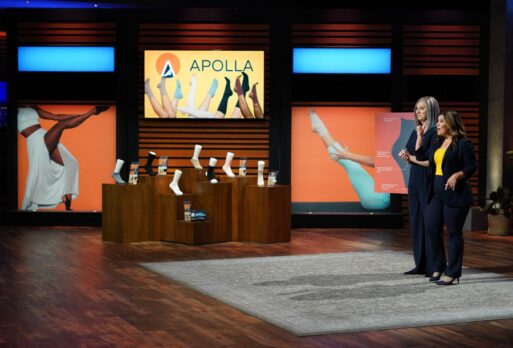 Kaycee Jones and Brianne Zborowski dance into the Shark Tank to pitch Apolla, their line of compression socks for dancers, in Shark Tank episode 1318. The business was just an idea for the two women back in 2013. They spent the next two years testing, prototyping and learning about manufacturing in the USA. The company launched in 2016. By 2018, they were the the footwear of choice for Emmy & Tony nominated choreographer Sonya Tayeh's dance symphony, You'll Still Call Me By Name, So You Think You Can Dance pros and choreographers, Boston Ballet and even professional hockey players. In 2020, they were in a research study by Ohio University and were shown to be effective in reducing force. They also received the American Podiatric Medical Association's Seal of Acceptance.
Their socks provide arch support, ankle stability, energy absorption and they have socks that provide traction. Traction is important for some aspects of dancing, but using the traction socks still allow dancers to slide onstage when necessary. The traction is a sticky substance that is applied on the sock. Once  they are broken in to the level of stickiness you want, you maintain that level with a spray adhesive they sell. All socks, whether for dancers or "regular folk," provide compression and support and include energy absorption padding in the heel. They are made in the USA with REPREVE, the world's number one brand of recycled performance fiber.
Do They Help?
Wearing Apolla socks gives you targeted compression to assist circulation and recovery by reducing inflammation. The arch support is equivalent to taping your ankles up. The energy absorption padding in the heel provides comfort to the metatarsals and heel. All socks are $36-$38 per pair, but you can save 5% when you bundle 3 together. The socks are very well received in the dancing world, but now the women would like a Shark to help them sell to the rest of the world.
Company Information
Video

Posts about Apolla on Shark Tank Blog
Apolla Shark Tank Recap
Kaycee and Brianne enter the Shark Tank seeking $300,000 for 15% of their company. They say 75% of Americans have foot pain. Next they talk about the features and how they help with pain. The Sharks examine their samples – they have all the styles. The Sharks try them on. Robert loves his. They're made from nylon and polyester. They started the company to help dancers. Both women are life long dancers and dancing culture is riddled with injuries.
Lori danced for years and she had to have surgery on her toes. She LOVES the socks. There are two utility patents and one design patent. They sold 120,000 pairs of socks for $4.1 million since 2016. So far this year (2021) they sold $800,000 and expect to sell another $800,000 by year's end. 85% of sales are direct to consumer and the rest is wholesale. Emma is impressed by their 2% return rate. They had over $1 million in sales, but the Covid-19 pandemic skewed 2020 sales. Margins are 73% and 52% of customers buy again. The socks cost $6-$10 to make and sell for $32-$40 per pair. The Sharks are shocked at the prices.
After a break, they say operating expenses are $40,000-$45,000 per month. Kevin says he's not their Shark; he's out. Mark actually got paid to dance and taught dance in college, but he's out. Robert is struggling with why it's not viral, but it's not for him; he's out. Emma says it's not growing at the speed it should; she's out. Lori says she doesn't love socks but she's lived with foot problems. Lori says the foot with the sock on it feels great and she offers $300,000 for 25%. They counter with 20% but Lori says they have a lot to prove – she holds firm and they accept Lori's deal.
Apolla Shark Tank Update
The Shark Tank Blog constantly provides updates and follow-ups about entrepreneurs who have appeared on the Shark Tank TV show. In the immediate aftermath of the original air date, the company sold out of most of their inventory and were taking back orders. A week after the initial air date, the women told the Idaho State Journal they "couldn't be happier with our deal." The first re-run of this episode in July, 2022, airs just four months after the original air date. As of this time, the deal with Lori has not closed. As of July, 2022, they still have a 6-10 day backlog on orders, but they say they'll be tripling their production capacity by the end of summer 2022.
As of January, 2023, the deal with Lori did not close. The company is doing gangbusters business and they still have delayed shipping on their more popular items.
The Shark Tank Blog will follow-up on Apolla & Kaycee Jones and Brianne Zborowski as more details become available.