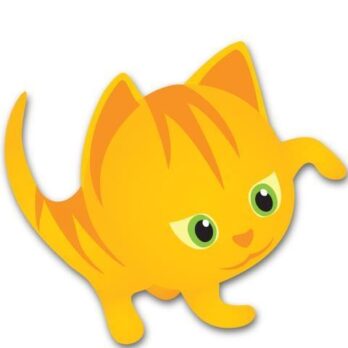 Andrey Grigoryev introduces the Sharks to Cat Amazing, his line of treating toys for cats, in Shark Tank episode 1319. Andrey invented his first Cat Amazing toy back in 2014 at the direction of his cat, Mookie. The toys are basically boxes with openings in them to place treats or cat food inside. The cats are entertained by the challenge of removing the food from the boxes and it helps them not eat too fast.
There are 4 models: the Classic, the Slider, the Epic, and the Mega. Each model is a bit bigger than the other. They range in price from $16-$35. The company also sell Stacks – stackable, modular cat condos. They're all made out of durable corrugated cardboard with a special coating on it. The company has a heart, too. Andrey likes cats so much, he donates some of his toys to cat shelters all over the USA and Canada,
He launched his second product, the Epic, with a successful Kickstarter campaign that raised $$18,814 back in November, 2019. Reviews from happy cat owners are near unanimously positives. The toys also help cats with behavioral issues as cats act out when they're bored. All products are available on Amazon and Chewy. Andrey likely wants a Shark's help getting into retail. Do Sharks like cats?
Company Information
Video

Posts about Cat Amazing on Shark Tank Blog
Cat Amazing Shark Tank Recap
Andrey enters the Shark Tank seeking $200,000 for 10% of his company. He describes how modern house cats have a somewhat boring life. He says it's impossible to hunt indoors and his product brings out cats' natural hunting instincts. He shows the three sizes and tells how he donates to cat shelters. The Sharks examine their samples which are loaded with treats.
Andrey came to America from Russia at age 8 and he didn't have many friends, so he bonded with his household pets. 15 years later, he and his wife adopted their cat, Mookie. They needed something to keep him entertained in their small apartment. Sadly, Mookie died of cancer. From 2011-2017, the business was a hobby that made $20,000 per year. In 2017 he quit his six figure job and made $34,000 with his business; in 2018, he did "north" of $300,000 in sales. In 2019, he did $420,000 in sales and in 2020 he did $550,000. For 2021, he's on track to do $720,000 in sales. Landed cost is $5-$9 and they retail for $16, $23 and $30. Most sales are through Amazon. Profit margins are about 20%.
Who's In?
Profits are low because he wants to keep it affordable, Mark says he should optimize profits and he goes out. Andrey wants a partner to help him take it to the next level. Kevin says he loves cats; he offers a royalty deal of $2 per unit until he recoups $200,000, then the royalty is $1 in perpetuity. He cites his successful Wicked Good Cupcakes deal from season 4.
Robert says he's a pet lover and he offers the same deal as Kevin. Daymond wants to know why he isn't in retail and offers $200,000 for 25%. Andrey says he buried Mookie with a promise that he'd commit all of Cat Amazing to help shelter cats. He counters Daymond with $200,000 for 20% if Daymond will give 10% to shelter cats and Andrey would give 15% to shelters. Daymond counters with $200,000 for 25% and he'd give 5% to shelters if Andrey matches it. Lori jumps in and offers $200,000 for 22%. Andrey asks if she'd give 5% of her share to shelters if he matches it. Lori says "I'll do that deal."
Cat Amazing Shark Tank Update
The Shark Tank Blog constantly provides updates and follow-ups about entrepreneurs who have appeared on the Shark Tank TV show. On the night of the original air date, Andrey completely sold out of his products. He was accepting pre-orders to be fulfilled in mid May, 2022 (the original episode aired on April 15, 2022). As of the week following the original air date, the deal with Lori hasn't officially closed. On show night, Lori Tweeted:
Get your
@CatAmazingToy here: https://lori.gr/37TxHQC #SharkTank
@ABCSharkTank
As of March, 2023, the deal has still not closed with Lori. Now, when you order one of the products, you get a free "Cat Enrichment Guide" with your purchase. In 2022, the company did a whopping $6 million in revenue.
The Shark Tank Blog will follow-up on Cat Amazing & Andrey Grigoryev as more details become available.