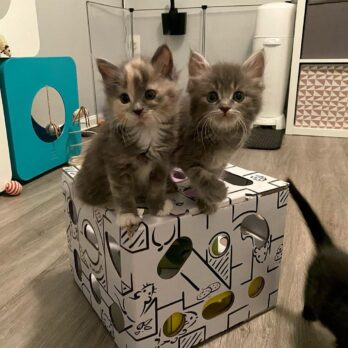 Andrey Grigoryev would have you believe his cat Mooky directed his creation of Cat Amazing cat toys. Mooky "says" Andrey is "the (barely) presentable façade of the company." In his role as CEO (Cat Entertainment Officer), Andrey is charged with presenting Cat Amazing, his company that makes the cat toys, on Shark Tank tonight. Mooky speaks "Meowth," but Andrey will be presenting in English.
The cat toys are basically heavy duty cardboard boxes with strategically placed holes in them. Inside are shelves and trays for food. The cats can explore with their paws and retrieve their  food through the holes. It helps them eat slower and captivates them for hours. If you have a cat, you know they love to explore and be entertained.
The boxes are 100% recycled cardboard and are guaranteed to "last a long time." If, for some reason, your cat won't engage, they offer a 100% money back guarantee. Currently, they are available to the public on the company website and Amazon. Some veterinarians carry them and they offer wholesale pricing for anyone who wants to sell them. Andrey is likely in the Shark Tank to get some help with big box retail distribution. A Shark can definitely help with that.
My Take on Cat Amazing Cat Toys
I'm a dog guy. I don't mind cats, but I'm not a huge fan either. Cats seem to love me though. Whenever I go to someone's house and they have a cat, I usually get a lot of attention. One of my daughters has a Russian Blue named Sir Charles. He LOVES me and always ends up in my lap when I visit my daughter.
I  called my daughter and consulted her for this post and found out she was a Kickstarter backer of this product. Apparently, Sir Charles LOVES his Epic Cat Amazing toy. She has two parakeets too and Sir Charles doesn't pay them any mind when he's playing with his Cat Amazing toy. I guess if you're a cat person, this is a good addition to your cat toy arsenal. I'm in.
Will Sharks Like This Toy?
Pet products are hit or miss in the Shark Tank. Lori did have some success with a cat related product though. Back in season 10, she invested in Kitty Kasas. It was a good investment as the business was acquired for an undisclosed amount. Daymond and Mark have also invested in several pet products over the years.
I don't think Robert or Kevin will make any offers, but if the numbers are good, you could see offers from Mark, Daymond or Lori. If they don't make offers, there will be no deal.