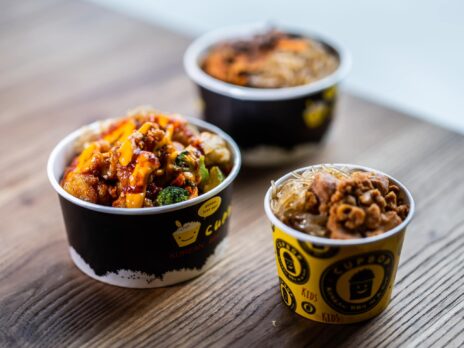 Cup Bop started as a single food truck in Salt Lake City back in 2013. Owner Jung Song didn't have a lot of interest when he first opened. To attract customers, he had to break dance and shout a lot. It worked. The truck became very popular with the locals, so much so that it expanded into a handful of brick and mortar fast casual restaurants. Dok Kwon was a patron of the restaurant who got to know fellow Korean Song over the years. Eventually, Kwon left for New York to be an investment banker. But he never forgot about Cup Bop.
After 7 years in New York, Kwon grew restless. He wanted to do something different with his life and career, so he called Song up and said he could help grow the business. Song was receptive and he brought Kwon on board as the COO of the business. Kwon was true to his word. He helped grow the business to 37 US locations and over 100 locations in Indonesia. Now, they pair wants to grow to every US state beyond the stores they have in Utah, Idaho, Arizona, Colorado, Nevada and Oklahoma.
They should not have a problem growing their foot print. Their food is well liked and their restaurants are clean, attractive and full of boisterous bustle. They serve traditional Korean barbecued meats with noodles, dumplings and veggies. The meals come in giant cups for easy takeout. Franchising is how they want to fuel their growth. The guys believe they can be a national brand and a global brand and they want a Shark to join them on their journey.
My Take on Cup Bop
I LOVE barbecue, no matter what country it hails from. I used to go to a Brazilian barbecue joint all the time when I lived in Massachusetts. I also went to a few Korean joints up there too. I actually ate at the Las Vegas Cup Bop the last time I was there. It's a favorite of my father-in-law; he's the one who introduced me to it. The food was OFF THE HOOK!
If I had one of these restaurants near me, I'd put it into my "dining rotation." I think this concept could be huge – like another McDonalds. There are so many burger franchises. While there is no substitute for a good burger (Culver's is a favorite of mine), people want some variety. Cup Bop would be a welcome member in the fast casual landscape. I'm in.
Do Sharks Like Barbecue?
Both Mark and Barbara have had success with franchised food businesses. Their first, Tom and Chee, ultimately was a bust because they grew too quickly, but others like The Fat Shack, Cousins Maine Lobster and Press Waffle have had great success. Other companies that didn't do deals have also gone on to franchise success.
I don't think Robert, Lori or Kevin will make offers. If an offer comes, it will be from Mark and Barbara (or both of them together). What I'm curious about is why this business is in the Shark Tank at all. With over 100 locations world wide, they seem to have a handle on growth. Perhaps they think a Shark can make things grow quicker or perhaps they are just in the Tank for the exposure.