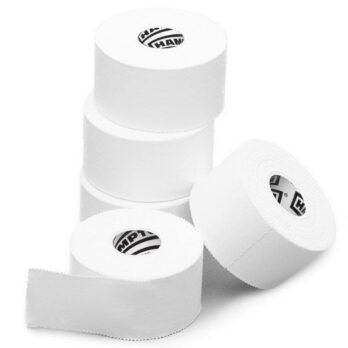 Seneca Hampton created Hampton Adams Athletic Tape to solve a problem he had as an athlete. Whenever he taped his ankles or other parts of his body for a football game, he'd end up with sticky residue on his skin and cleats. Since his mom is a nurse and his dad is a football coach, he knew the importance taping up to help prevent injury. He also knew taping and wrapping sore muscles was a necessity for athletes.
With this in mind, he set out to make Hampton Adams Athletic Tape: a no stick tape for athletes and health care  professionals. He met with dozens of manufacturers before he found the right "formula," and now his products are the top selling athletic tapes on Amazon. The good news is he started the business with just $700 and kept re-investing profits to scale his growth. He also took out a few small loans to scale quicker. The bad news is he can't keep enough product in stock – he keeps selling out.
With revenues doubling each year, he has sales, but at times he feels like the hamster in the wheel. He wants to expand to 14 more countries via Amazon, so he needs inventory. He also has the goal "to be the sports medicine brand when it comes to recovery, period." A Shark can help with that.
My Take on Hampton Adams Athletic Tape
It's been a while since I needed athletic tape. I broke a finger about ten years ago and taped the broken finger to another finger for a number of  weeks. I'm with Seneca on the stickiness thing. The leftover adhesive was hard to wash off. If I had a non-stick option, I'd take it.
Apparently a lot of other people like his tapes too. They have a 4.6 out of five star rating on Amazon and many pro athletes are picking it up too. It's no more expensive than other athletic tape either. While athletic tape isn't what you'd call a sexy product, it's one of those necessities everyone should have around the house. Why not get the non sticky kind?
Will Sharks Tape up a Deal?
Because this is such an "ordinary" product, I don't have a real good feel for how it will go over in the Shark Tank. It could just end up being a straight up cost of customer acquisition versus profits type of pitch. If that's the case, he could see interest. Robert did invest in The Natural Grip back in season six. That was a protective tape/wrap for people who do CrossFit. Since the company went out of business in 2018, Robert wouldn't have a conflict, but he might also not like the tape business.
Mark would make a good partner. He could  get NBA players to try the product out and he could also sell it on his new pharmacy website. Perhaps he'll make an offer. I don't see Barbara or Lori going for this, but I could see Mr. Wonderful doing a royalty offer.