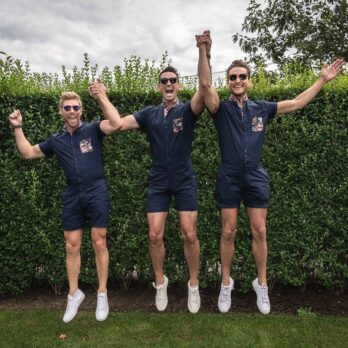 Justin Clark and Wyatt Thompson introduce the Sharks to Romper Jack, their rompers for men, in Shark Tank episode 1309. Clark got the idea from a men's romper Kickstarter he came across in 2017. When he did some looking around, he found nobody else was making rompers and jumpsuits for men, so he decided he'd become their competitor. Clark has another business called Whiz Tutor, an Uber-like app that lets parents find local tutors for their kids. Apparently, in the summer when school is out, there isn't a lot of activity at Whiz Tutor, so Clark fiddles with other ideas.
That's when he decided he was going to start Romper Jack. He enlisted the help of Thompson and Wes Daggett (not appearing in the Tank) and got to work. They decided they were going to target the LGBTQ market since, apparently, gay men like wearing the jumpsuits and rompers. Jumpsuits are long pants with a shirt attached and rompers are short pants with a shirt attached. Clark had experience sourcing on Alibaba so he got his first sample in a couple of weeks. That sample wasn't good, but they had something to work with. Within a few weeks, they figured out better materials and design and ordered 1200 rompers in 4 different styles. The wildest thing is, the team did all this in two months. By 2019, they had $900,000 in sales!
The rompers and jumpsuits come in a wide variety of styles and patterns. They're currently $69 on the company website. The jumpsuits are $99. They also sell overalls for $59. In addition to that, they have swimwear and hats two. While the guys are pretty good digital marketers, they admittedly don't have a lot of experience with an inventory based business. They're looking for a Shark to help them navigate that piece of the puzzle.
Company Information
Video

Posts about Romper Jack on Shark Tank Blog
Romper Jack Shark Tank Recap
Justin and Wyatt enter the Shark Tank seeking $200,000 for 5% of their company. They have black suits on and they tear them off to reveal the rompers they're wearing. They explain how they're good for men. Daymond immediately questions the valuation and they say they did $3,7 million in sales over the last four years. $1.1 million of that was in the last 12 months. They sell direct to consumer exclusively from their website. Daymond remarks that if he wore the romper, he'd look like he's on his third trimester.
They explain how mostly gay men buy the product. There are other companies in the space, but they are the leader. They explain how they beat the Kickstarter to market. Peter asks Lori if she finds the outfits attractive. Lori isn't sure she likes it. Mr. Wonderful knows the LBGQT market from Rounderbum, an underwear company that he invested in in season 9. Apparently, the underwear is a hit with the LGBQT community and it's driven down customer acquisition costs.
In 2017, they did $200,000 in sales, $580,000 in 2018, $980,000 in 2019, $1.1 million in 2020 and they are on track to do $1.5 million for 2021. Last year they did $150,000 in profit while paying themselves a salary. They expect to make $300,000-$350,000 in profit in 2021. Justin and Wyatt run the operation and they hired stay at home moms to do customer service.
Mark "clears the deck" and says clothing isn't his thing, he's out. Daymond says they remind him of himself by selling to an underserved community, but he's not part of that community. He also says he'd look like a Yodel in it, he's out. Peter thinks they are going to struggle and says they'll need more money to grow, he's out. When Lori starts to speak, they talk about rolling out Romper Jill for women, but she says the business isn't for her, she's out. Mr. Wonderful is on the fence. The guys say they've never had inventory in stock. Mr. Wonderful says he likes it but doesn't love it, he's out.
Romper Jack Shark Tank Update
The Shark Tank Blog constantly provides updates and follow-ups about entrepreneurs who have appeared on the Shark Tank TV show. Since the original air date, the guys added shorts, swimsuits, golf shirts, aprons and overalls to their line. They hit $1.5 million in sales for 2021 and they expect to grow 200%-250% in 2022.