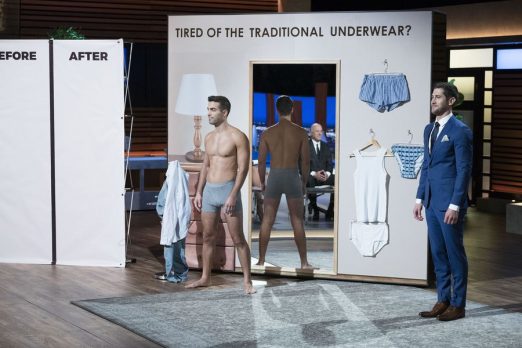 Jonathan Diersing seeks an investor in RounderBum, his line of underwear designed to "enhance male attributes," in Shark Tank episode 917. Rounder Bum underwear makes men's bums look rounder through lifting straps, padding, compression or a combination of the three. They also make underwear that gives some "lift" to the front of men's bodies.
Diersing started the business in 2015 under a manufacturing and licensing arrangement with Rounderwear, a major Mexican underwear manufacturer that has other major brands under its umbrella. The company initially sold men's boxers, briefs and boxer/briefs, but has since expanded into compression panties for women, compression shirts for men and compression socks.
RounderBum uses several "technologies" to enhance the male anatomy. The "padded tech" adds padding to the bum side of underwear to give a more well rounded look to a man's butt. Lift tech uses bands to lift saggy butts while Package tech adds more "bulk" to a man's jewels. There's even Gravity tech that features a "free-fall pouch" for the package. Compression tech clothing provides support and a slimming effect.
The underwear isn't cheap at $20-$25 per pair. All RounderBum products are readily available on Amazon. Diersing has the product in several small, mom and pop type men's shops too. He likely wants a Shark's help getting into more retail locations. Will a Shark round out a deal for this one?
RounderBum Company Information
Video

Posts About RounderBum on Shark Tank Blog
Rounder Bum – Body Shaping Underwear
RounderBum Shark Tank Recap
Jonathan enters seeking $150,000 for 10% of his business. He has a model with him as he gives his pitch. He notes the model is wearing padded trunks and a padded muscle shirt. Jonathan hands out samples, noting that the padding can be removed. A pair of undies costs $25. He's done $1 million in sales with $700,000 of that coming in the past year. He earned $200,000 on the $700K. He wants the money to hire a marketing team because he's a one man show now. This year (2017) he projects $1 million in sales and $1.5 million next year.
Daymond is the first Shark out saying he doesn't get enhanced clothing. Kevin offers $150,000 with a $2 royalty until $300,000 is recouped for 5% equity in the business. Mark goes out then Robert offers $150,000 for 20%. When Jonathan counters with 15%, Robert says no. He counters again with $300,000 for 20% and Robert says no. Jonathan takes Kevin's deal.
RounderBum Shark Tank Update
The Shark Tank Blog constantly provides updates and follow-ups about entrepreneurs who have appeared on the Shark Tank TV show. The deal with Kevin closed and Kevin actively promotes the products on his social media channels. They did big sales in the show's aftermath and they're the 4th best selling underwear on Amazon. As of May, 2022, they're still in business doing $3 million in annual revenue.