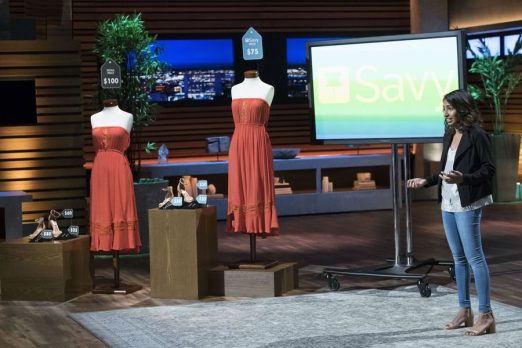 Disha Shidham hopes to partner with a Shark on Savy, her comparative pricing app, in Shark Tank episode 917. She started the business – originally called Tac Board – when she was a senior in high school. Savy is an app for millenials who have "high stylistic tastes, but low spending power."  Once you sign up, you can browse through products, name a price you are willing to pay, and when your price is accepted, you get an email.
Shidham got her start at the MIT Summer Launch Program. Further involvement with other start-up incubators/educators such as the Rev1 Concept Academy, Draper University Entrepreneurial Studies, and Catapult allowed her to continue the journey. She has such high hopes for her business, she deferred her acceptance to the University of Michigan in electrical engineering.
Savy has products from big box retailers, independent designers and mom and pop boutiques. When they tested the original beta, 90 percent of users bought when they got the price they want. The list of current partners offering goods through the Savy app is small, but Shidham hopes those numbers will grow with a Shark as a partner. She likely wants to leverage her appearance and a Shark partnership to recruit more retailers and users for the app.
Will a Shark want to help save this business?
Savy Company Information
Video

Posts About Savy on Shark Tank Blog
Savy Shark Tank Recap
Disha enters the Tank seeking $100,000 for 10% of her business. She gives her pitch and walks the Sharks through the app on a large screen. Disha tells the Sharks she has 1000 stores signed up and around 2000 users. She connects with stores and users via social media. A discussion about her background follows and Disha reveals she is not going back to college.
Upon hearing that news, Mark goes out. Kevin thinks it's interesting, but too early; he's out. Robert doesn't think she's fanatically obsessive about her business; he's out. Lori is next, quickly followed by Daymond.
Savy Shark Tank Update
The Shark Tank Blog constantly provides updates and follow-ups about entrepreneurs who have appeared on the Shark Tank TV show. Savy went out of business in 2018 as the app was unable to attract large clients. As of June, 2021, the website and social media are dark and the app is not in the app store.