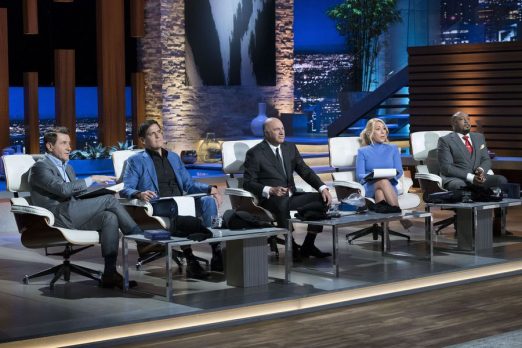 Shark Tank episode 917 features the "old school" Sharks as four new businesses seek a deal with one of the wealthy investors. Disha Shidham wants a Shark to help her with Savy, a comparative pricing and shopping app that targets millennial users. Jennifer Jo Sullivan and Randy Rothfus pitch GuzzleBuddy, their viral, wine lover's novelty gift based on a spoof product from the TV Show Cougar Town. Jonathan Diersing seeks a lift from a Shark for RounderBum, his line of men's underwear that uses "body enhancing technologies" to give men a lift where they need it. Kevin Williams and Glenn Archer want a Shark to help them clean up when they pitch Brush Hero, a water-powered cleaning brush.
Which business gets a deal?
Tonight's update segment features Barbara Corcoran's "Biz Swap where she has business owners she invested in work at each other's companies to help them improve.
Entrepreneurs
---
Update Segment – Biz Swap
There are 28 Shark Tank Episodes for Season 9. This season features more appearances by "guest Sharks," including billionaire Sir Richard Branson. The 200th episode also airs this season. Casting is currently closed, but it never hurts to get a head start on season ten! If you would like to appear on the show, check out our Auditions and Casting information.
Episode 917 – The Shark Investors and Entrepreneurs
The Shark Tank Episode 917 entrepreneurs will make their best pitch to the panel of five Shark investors who will use their own money if they choose to invest. The Shark Investors negotiate on the spot without any previous information, which differs from typical negotiations between venture capital investors and entrepreneurial start-ups.
Companies pitching the Shark Investors must go through a rigorous due diligence process before an on-air deal is completed. Shark Tank Blog follow ups help you keep track of the companies that end up successful and the ones that don't complete their deal.
Thank you for reading SharkTankBlog, the number one site for Entrepreneurs, Investors and Fans. Our content updates multiple times day, giving you the latest information on Episode 917, Season 9, and all other seasons and episodes.
Episode 917 Press Release
Shark Tank: Episode 917 (1/21)
A NEW EPISODE OF 'SHARK TANK' DEBUTS ON SUNDAY, JANUARY 21
"Episode 917" – A young entrepreneur from Columbus, Ohio introduces the Sharks to a dynamic pricing tool aimed at Millennials and their spending habits; two entrepreneurs from Park City, Utah and Alexandria, Virginia introduce their revolutionary cleaning tool that they expect will be in every home in the world; and a brother and sister-in-law pair from Medford, Oregon prove that pouring is boring by sharing their original wine product that makes drinking even more fun, on "Shark Tank," SUNDAY, JAN. 21 (9:00-10:00 p.m. EST), on The ABC Television Network, streaming and on demand.
In a "Shark Tank" update, Barbara Corcoran highlights Biz Swap, her business networking retreat connecting different businesses she has invested in with an opportunity to "walk in the other founder's shoes" to learn how they might improve their businesses.
The Sharks in this episode are Robert Herjavec, Mark Cuban, Lori Greiner, Daymond John and Kevin O'Leary.