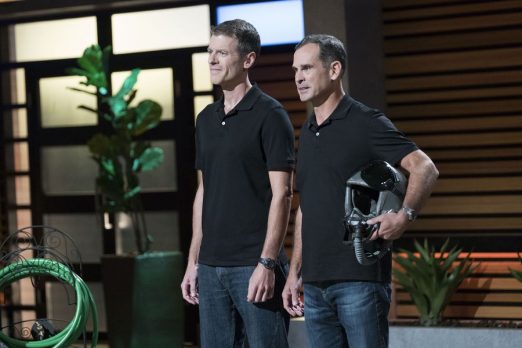 Kevin Williams and Glenn Archer want to fight the muck when they introduce Brush Hero to the Sharks in episode 917. Brush Hero is a water powered cleaning brush that cleans everything from automobile tire rims to patio furniture to bathrooms. The rotating brush attaches to a regular garden hose and the water pressure rotates the spinning brush head.
Williams and Archer are "car geeks" who wanted a good way to clean and detail their cars while conserving water. A Brush Hero uses 50% less water than a free-flowing hose and the added scrubbing, "muck busting" brush heads work faster and more efficiently that stand-alone scrubbers. They started the business in 2015 and met with near immediate success. They're also a socially progressive company that partnered with Salt Lake City based Columbus Professional Services, an organization "supporting the growth, development and independence of persons with disabilities." All assembly, packaging and shipping occurs at their facility.
Each basic starter set comes with a soft and stiff brush along with the Brush Hero nozzle. There are many add-ons including a soap dispenser, extension wands, and an indoor adapter that connects to a shower head. Their's a marine version and they also sell a complete line of cleaning products designed for use with the product. A starter set is just 35 bucks on Amazon.
Williams and Archer probably want their product in hardware and other big box stores. They likely want a Shark's help with scaling production and product placement. Will a Shark want to clean up with this business?
Company Information
Video

Posts About Brush Hero on Shark Tank Blog
Brush Hero Shark Tank Recap
Kevin and Glenn enter seeking $500,000 for 10% of their business. They give their pitch, then demonstrate the product on a motorcycle onstage. When they're done, they invite the Sharks to come try it out. Lori and Daymond give it a go. They sell them for $34.99 and make them for $6.50, which the Sharks like. Next they hand samples to all the Sharks and the questions really start.
They advertise primarily on Facebook. A $460,000 ad spend resulted in $1.2 million in sales. Robert says their $10 million valuation is way out of whack. He puts the value at $1.7 million. Lori wants to know about competitors. There aren't any.
Robert is the first Shark out, saying he's "not a cleaning guy." Mark quickly follows. Kevin doesn't like the valuation; he's out. Daymond doesn't like the valuation either, but he offers $500,000 for 25%. Lori quickly matches the offer and touts her QVC show as a good vehicle for the product. They counter with 20% and both Sharks hold firm. When they go out to the hall to confer, Robert tells the other Sharks there is a similar product on the market. When the guys come back in, Daymond goes out. Lori modified her offer to a $250,000 loan at 7% interest plus $250,000 for 25%. They decline that deal.
Brush Hero Shark Tank Update
The Shark Tank Blog constantly provides updates and follow-ups about entrepreneurs who have appeared on the Shark Tank TV show. Sales exploded after the original air date – 500 times their normal volume! Five weeks after airing, cheap Chinese counterfeits flooded Amazon. The products looked the same, right down to the packaging, but they were poorly made and caused Brush Hero's customer service lines to light up. This led to a deep dive into Amazon's policies. You can read about that nightmare HERE.
They managed to square away the counterfeit situation and were voted one of the 25 best gifts for car lovers for the 2018 holiday season by Car and Driver Magazine. As of January, 2023, the company is humming along nicely with annual sales of $6 million.