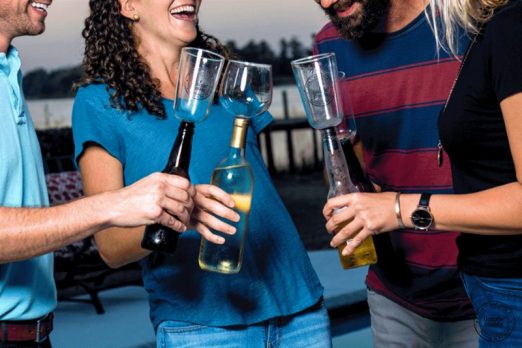 Jennifer Jo Sullivan and Randy Rothfus hope to score a deal for GuzzleBuddy, their "wine glass" novelty item, in Shark Tank episode 917. The brother and sister in law duo turned a sitcom joke into a business back in 2016 after watching an episode of Cougar Town a few years earlier. It seems the pair watched an episode that featured a wine glass you plug straight into a wine bottle. That product was called GuzzleBuddy.
Randy and Jennifer went searching for the product online and realized it was a spoof – the product didn't exist. Sensing opportunity, Jennifer trademarked the name and sought ought a manufacturer to produce a real GuzzleBuddy. The first GuzzleBuddies were released in October, 2016 and the product became an instant viral hit. Wine lovers everywhere wanted one for the novelty as much as the utility.
A Guzzle Buddy is a wine glass, but instead of a stem and base, there's a hollow stopper that corks into the top of a wine glass. It turns the entire bottle into a wine glass! This helps aerate the wine and acts as a conversation starter; it's a hilarious gift for any wine lover. They also have a GuzzleBuddy for beer bottles shaped like a pilsner glass. Each one costs $24.99 on Amazon. Unbreakable, plastic versions of each product are also "coming soon."
Jennifer and Randy probably want a Shark to help them continue the viral hype and parlay their idea into a fortune. Will a Shark want to buddy up with this business?
Company Information
Video

GuzzleBuddy on Shark Tank Blog
The Guzzle Buddy – Extreme Wine Glass
GuzzleBuddy Shark Tank Recap
Jennifer and Randy enter the Shark Tank seeking $400,000 for 10% of their business. They give their pitch and demonstrate the product, then hand out samples and wine to the Sharks. All the Sharks plug in their Guzzle Buddies and take a sip. When Robert asks, they tell the story of how they came up with the idea.
In just 10 months, they did $1.4 million in sales. Those sales came when one of Randy's tweets went viral after being re-tweeted by someone with 14 million followers. They made $320,000 from those sales. The company has good margins: they make each unit for $3.12 and sell them for $24.99.
Mark is the first Shark out, followed by Daymond. Lori questions whether they can sustain sales and they claim they have. Robert can't justify the valuation; he's out. Kevin echoes Robert's sentiments and is the next Shark out. Lori is the last Shark left and she asks them to reconsider their valuation. They come back with $400,000 for 20% and Daymond blurts out that he'll do $400,000 for 25%. Lori then offers them a $400,000 line of credit, but the pair opts to go with Daymond.
GuzzleBuddy Shark Tank Update
The Shark Tank Blog constantly provides updates and follow-ups about entrepreneurs who have appeared on the Shark Tank TV show. The deal with Daymond never closed. Since airing, they added plastic versions of their products. Several, poorly made knock offs have entered the market and Guzzle Buddy dropped their prices a little as a result. They also introduced customized products for gifts or promotional items. As of January, 2023, they are still in business and have between $1-$2 million in annual sales.