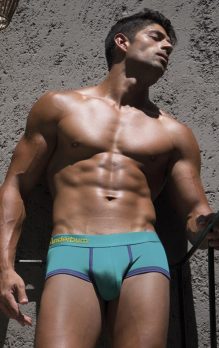 Body shaping undergarments aren't new, but Rounder Bum creator Jonathan Diersing wants to sell them to men. Women have had all sorts of body shaping/enhancing under garments for years (think "push-up bra"), but men were woefully under represented in that category. In 2015, Diersing launched his company with undies to give men some lift and support where they need it most.
RounderBum uses "body enhancing technology" to round out male tushes and support their packages. Through a series of pads, compression fabric and straps, guys can have a rounder bum and bigger, more supported crotch area. Whatever body part guys want to enhance, there's some Rounder Bum undies for that. They're available in all styles: "tiny whities," boxers and boxer briefs. They also sell compression fabric shirts to tighten things up on top.
They come in a wide variety of styles and colors and there's even a bum lifting woman's panty. Diersing wants to expand into women's wear in the future. At around $35 per pair, this is expensive underwear. He hopes men will pony up the cash to look good. When he pitches the undies in episode 917, he hopes a Shark will help get the word out and get the product into fancy schmancy retail locations, too.
My Take on Rounder Bum
Diersing wants to sell men's underwear, but he isn't selling them to men. There is NO WAY I would spend that kind of money on a pair of undies – I don't care if the made me look like Adonis himself. Most of the models on the Rounder Bum website look like Adonis; they're eye candy for the ladies.
Diersing must know women buy most men's underwear. A well-known study reveals men rarely buy their own undies and it's usually when they start a new relationship. Guess who buys most men their underwear? It's either their moms (who wouldn't get their kids these undies) their wives or their girlfriends. Hence the preponderance of buff male models on the Rounder Bum website.
Women would drop $35 bucks on underwear just so they could close their eyes and imagine their man looks like one of these guys. Myself, I could care less whether my bum is rounder or my package is riding a bit higher. I can't ever recall thinking these were shortfalls, much less buy a product to correct it. Likewise for my friends. In fact, if I confessed to owning a pair of these, I'd expect heaps of abuse from most of my friends! Vanity isn't a male fashion trait for the most part and I'll stick with my Superman underpants for now.
Do Sharks Round Out a Deal?
This is a tough one. I believe this guy will sell a crap ton of underwear, even at $35 a whack. The Sharks will love his numbers, so he may get a bid. The one thing I'm sure of is Mark Cuban goes out. I think he's more on my side of the fence when it comes to underwear. Daymond could nibble if the valuation is good and if he sees a market.
One thing Diersing has going for him is he's done the hard work; he's not getting the "too early" objection. Lori may be swayed by the hot models, buy by the time she towels off, I think she's out too. Like wise for O'Leary and Robert. They're of an age where they just don't care about how their bums look. I'm not feeling a deal here.