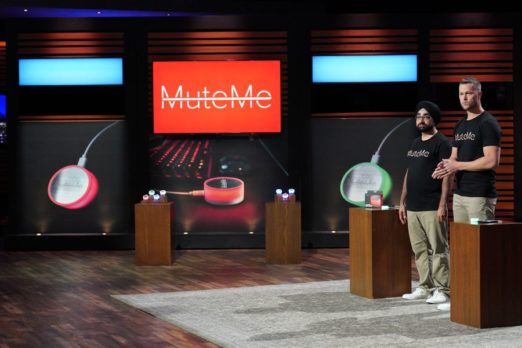 Parm Dhoot and Tye Davis seek an investment for MuteMe, their illuminated mute button for online meetings, in Shark Tank episode 1302. The co-founders are parents with kids who had difficulty muting their conference software quick enough to drown out noises by kids while working from home during the Covid-19 pandemic. It's a simple button you put on your desktop that you push when there are background noises. It also lets others in the virtual meeting know that you're muting yourself.
The team worked quickly. They went from idea and conceptualization in August, 2020 to shipped product less than a year later. They got things started with two successful crowdfunding campaigns in January, 2021. Their IndieGoGo campaign raised $289,075 and they raised another $154,756  on Kickstarter. All orders were shipped by July, 2021 – right around the time they likely taped their episode.
The MuteMe button works with all virtual conferencing platforms. You'll need to download software to your computer so the button will synch with your platform and system microphone properly. Each button is only $39 and they offer a bulk discount for companies that order 25 units or more. They are first to market with this type of technology and likely want a Shark to help them scale growth quickly. Will this company push a Shark's buttons?
Company Information
Video

Posts about MuteMe on Shark Tank Blog
Mute Me – Illuminated Mute Button
MuteMe Shark Tank Recap
Parm and Tye enter the Shark Tank seeking $200,000 for 10% of their business. Their wives are on screens onstage to join the pitch virtually. When they're finished introducing themselves, they start griping about not being onstage with their husbands and Parm yells "we can hear you!!" Next, they do a rhyming pitch that describes their product and they explain how people use it.
Each unit costs $11.66 to make and they sell it for $39.95 retail. After telling how they brought the product to market, they say they've done $61,000 in web sales. They're also in every Staples store for 4 weeks (as of taping), but they've only sold 150 units. At this point, Mark says they don't know how to sell it; he's out. Kevin says they are "going to zero," he's out. Peter says he has a "gadget company" in Asia, but he's concerned about the price. He'd like to give it to his team and see if they can get the cost under $1.00.
Daymond then offers $200,000 for 50% due to the amount of work he'll need to do. Then Peter offers to go in with Kevin and Daymond but Kevin says no. Lori goes out next. Peter says he's torn. He's worried his team will mock him for investing $200,000 on a "@#$!ing button that turns red and green." Daymond chuckles at Peter's comment then he goes out. Peter goes out too: NO DEAL.
MuteMe Shark Tank Update
The Shark Tank Blog constantly provides updates and follow-ups about entrepreneurs who have appeared on the Shark Tank TV show. After airing, the company had major supply chain issues. High shipping charges and the chip shortage caused a major back up in deliveries. They ultimately had to program their own chips and manually install them. They also introduced a "mini" MuteMe for traveling and launched an Amazon store. Despite these challenges, in October, 2022 – about 19 months after their original air date, they topped $1 million in  sales. As of July, 2023, lifetime sales have doubled to a little over $2 million.
This page will be updated as new information on Parm Dhoot and Tye Davis & MuteMe becomes available.