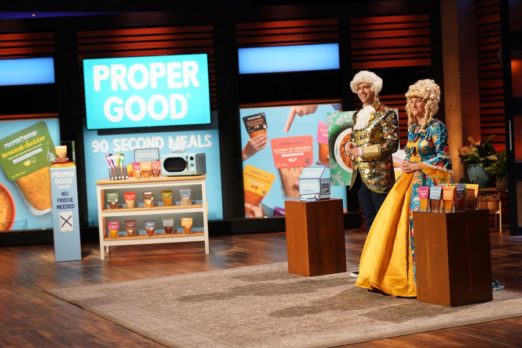 Brother and sister entrepreneurs Chris and Jennifer Jane give the Sharks a taste of Proper Good, their home delivered soup business, in Shark Tank episode 1302. They created the business to solve a problem they had. They're both busy people and they didn't always have time to make nutritious meals. They wanted an easy to prepare healthy meal option, so they created their own.
What they made are delicious soups that come in eco-friendly packaging. They're shelf stable, but there are no no preservatives or additives, only clean, natural ingredients. The Proper Good soups come in a variety of diet options: keto, dairy-free, gluten-free, and plant-based. Their key ingredient in all but the plant based soups is bone broth which is known to help boost immunity. You can also buy just bone broth. There are also four varieties of oatmeal available for breakfast options.
They have quite a few flavors of soups. The best sellers are; Red Pepper and Meat Ball, Broccoli Cheddar, Southwest Chili, Chicken Noodle, Meat Ball Minestrone, and Butternut Squash. You can buy them in pre-made bundles or build your own soup box. Each package of soup is about $7 – 15% less if you opt in to their subscription model. While $7 might seem like a lot for soup, these are actually complete meals. Purchasing an all natural, complete meal will definitely cost more. Right now, they sell from their website and Amazon. They probably want a Shark's help getting into grocery stores. Will the Sharks like this soup?
Company Information
Video

Posts about Proper Good on Shark Tank Blog
Proper Good Shark Tank Recap
Chris and Jennifer enter the Shark Tank in full Victorian costumes. They're seeking $400,000 for 10% of their business. They explain their business and introduce the soups that stay shelf stable for 8 months. Addressing Peter, they say they grew up on Dragon's Den and were delighted to learn they'd be pitching to him. While they're addressing Peter, the Sharks try their samples. They all like the soup.
The average price of the soups is $7 with free shipping. A box of 12 soups costs $30 to make and sells for $72. Year 1 in business was 2020 and they did $556,000 in sales. As of taping, halfway through 2021, they have "just over a million" in sales. They are different than the competition because they are the only shelf stable meal delivery company. You can even eat the soups cold. Daymond likes the soup, but he's not passionate about the business, he's out. Lori thinks it's too early, she's out.
They explain they're losing money. The company raised $2 million and will only net $300,000 on the $1.1 million in sales. The customer acquisition cost is $32. Kevin says he has no way of knowing the lifetime value of a customer and he goes out. Peter Jones says he's invested in food companies before and the problem is the founders get squeezed out by all the investors; he's out. Mark says he knows how to make the company huge. He says they can go to $25 million in a few years and offers $400,000  for 25% The Janes counter with 20%, Mark accepts and they do the deal.
Proper Good Shark Tank Update
The Shark Tank Blog constantly provides updates and follow-ups about entrepreneurs who have appeared on the Shark Tank TV show. The deal with Mark did not close. They may not need the money: in the week following their initial appearance, they sold three and a half months worth of their soup. With the sales increase from the Shark Tank effect, they are projecting $2 million in revenue for 2021. The company is 100% direct to consumer and they plan to start going into retail in 2022. Also, in November, 2021, the company introduced oatmeal to the line. As of August, 2022, revenue is on track for over $2 million for the year.
In November, 2022, the company closed a $3.5 million seed round from YETI Capital and The Artisan Group. The funds will be used to fuel growth caused by consistently solid direct to consumer sales and their expansion to retail. The company is currently in 2000 Wal Mart Super Centers and is eyeing other retail partners. As of November, 2023, revenue has grown 400% to $8 million annually.
This page will be updated as new information on Chris and Jennifer Jane & Proper Good becomes available.
***EDITOR'S NOTE: I have bought these several times and have not had a flavor that disappoints. My favorite  is the vegan chili. ****