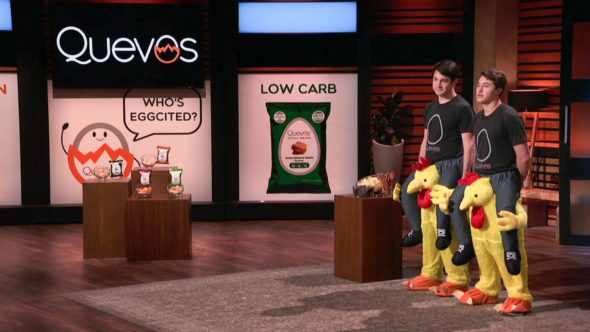 Nick Hamburger and Zack Schreier hope to crack a deal with a Shark for Quevos, their chips made from egg whites, in Shark Tank episode 1213. The inspiration for the chips came from Zack, who is diabetic. This makes snacking tricky as he has to count every gram of carbohydrates he ingests. He wanted a crunchy snack that wouldn't require him to take an insulin shot.
One day while cooking eggs, he noticed the very crispy part that's left over and thought, "hey, I can make a chip out of that." Together with his buddy Nick and sister, Zack spent two years perfecting Quevos. In fact, they spent so much time on the business, the guys had to drop out of college – with their parents' blessing. They sold out of their first production run very quickly, so they set up a Kickstarter campaign that raised over $70,000 back in 2019.
As for the chips, they're made from egg whites, milk and coconuts so they're low in net carbs – perfect for people on a keto diet. They come in 4 flavors: Quevos Rancheros, Sour Cream and Onion, Dill Pickle and Honey Mustard. A bag costs about three bucks on Amazon and they sell online in five packs. They're in a lot of mom and pop health stores plus Vitamin Shoppes, Hannafords and others. They likely want a Shark's help blowing up the brand.
Company Information
Video

Posts about Quevos on Shark Tank Blog
Quevos Shark Tank Recap
Nick and Zack enter seeking $200,000 for 5% of their business. They tell their story and hand out samples. The Shark like the chips and their sales: the boys are on track to do $3 million in sales in 2020 – despite the Covid-19 pandemic.
Like many other businesses during these Covid times, they've had to pivot. 80% of their business is online, the rest in the 400 or so outlets they were in at the time of taping. When the show aired, they were in over 1000 stores. Since they manufacture their product themselves with a proprietary process, they want a Shark's help streamlining that part of the business.
Kevin jumps in and offers $200,000 for a ten cent per bag royalty until he recoups $400,000. He'll also retain 2.5% equity. Daniel offers $200,000 for 10% plus a $200,000 line of credit. The guys accept.
Quevos Shark Tank Update
The Shark Tank Blog constantly provides updates and follow-ups about entrepreneurs who have appeared on the Shark Tank TV show. This deal closed and the company appears on his website. Lubetzky is committed to making this a national brand. In fact, some of his investment cash went into rebranding the packaging before the episode aired. In an interview with Forbes, Lubetzky says of the brand:
"I think they see potential, as I do, for Quevos to grow enormously, but right now their focus needs to be on building what they have and not spreading too thin."
In the two weeks following the original air date, they did $500,000 in sales. In addition to the initial investment, Daniel put another $1.35 million into the business. The company also raised another $3.6 million from several other investors. 2021 sales topped $2 million. You can find Quevos in GNC, Vitamin Shoppe, Whole Foods and Wegman's.
The company gets an update segment in episode 1309. In the update segment, they say they are in over 1500 stores. Sales at Whole Foods have tripled since the original air date and lifetime sales are at $3.2 million. Daniel says he's enjoying helping the guys learn from his own past mistakes. Daniel reveals the $1.3 million investment in the segment too. The guys say Shark Tank changed their lives. As of June, 2022, they are still expanding nationally. In January, 2023, the company was acquired by former CEO of Stryve Foods, Joe Oblas. Terms of the sale were not disclosed.