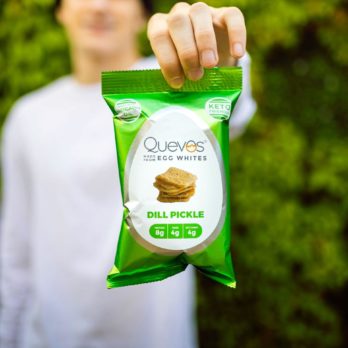 Zack Schreier invented Quevos Egg White Chips because he constantly has to watch his carbohydrate intake. Zack is a type one diabetic and has to monitor his blood sugar level constantly. This means snacking on a bag of chips requires an insulin shot. He wanted a snack that satisfied his craving for chips without sending his blood sugar levels through the roof.
One day, he was cooking some eggs and there was some crispy residue in the pan. He thought he could make a chip out of that, so he enlisted the help of his sister, Carly, and his buddy Nick. Together they spent two years perfecting Quevos Egg White Chips and even quit college to build the  business. Now they're ready to take on the Sharks.
They got things rolling with a successful Kickstarter campaign that raised $71,786 back in July, 2019. Now, you can find the chips in Vitamin Shoppes, Hannaford's, Wegman's and Whole Foods in Illinois. You can also find them on Amazon. The guys likely want a Shark's help with a national roll out. Will a Shark bite on these chips?
My Take on Quevos Egg White Chips
Like Nick, I am monitoring my carbohydrate intake. Since the first of the year, I've been on a Keto diet – a high fat and protein and very low carb diet. When you do this for a while, your body burns stored fat instead of carbs. It's working – I've lost a few pounds and I feel great.
What I miss is chips and crackers. I can do without bread and pasta but I really miss my crunchy snacks. When I saw these, I had to try them. I ordered the Keto Pack on Amazon. That comes with Quevos Rancheros, Sour Cream and Onion and Dill Pickle flavors. The sour cream and onion was a great flavored chip. The Quevos Rancheros was a bit bland, but my wife and I spread some goat cheese on it to jazz them up. The dill pickle was good, too – but my daughter ate most of those.
The best part is I satisfied my craving for crunchiness without eating a ton of carbs. These things are delicious and nutritious. I can't wait for them to get into a store near me so I don't have to wait to eat them! I am in.
Will a Shark Chip In and Invest?
If a Shark won't invest, Nick and Zack can give me a call, because I will. I'm thinking either Mark or Daniel jump on this (or perhaps they team up). These chips are a game changer. More and more people are ditching the junk food for healthy snack alternatives and these chips hit the nail on the head.
I think Mark will like their drive as well as the product which is why I think he bids. The thing is, I don't think Nick and Zack will need a Shark after tonight. Quevos are that good.