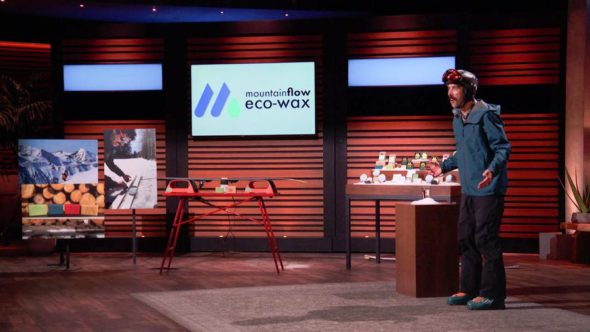 Mountain Flow Eco Wax creator Peter Arlein loves skiing and the environment. This led him to create a plant based ski wax so he wouldn't pollute the environment while enjoying his favorite passtime. Most ski wax products contain petroleum based ingredients which ultimately leech into the watershed. Mountainflow Eco-Wax is green and clean. They're so green, even their packaging is 100% recycled.
The company's first product was a spray that kept snow from sticking to the top of skis. Peter and company spent two years developing the wax products they now sell. They sold their first batches of wax on Kickstarter in the fall of 2019. Since then, they've put the wax on sale on Amazon and in REI stores.
Many ski areas stock the product, including an old haunt of mine, Killington in Vermont. Depending on the product, expect to pay between 14 and 28 bucks to get waxed up. Waxing skis is a way to get more performance out of them in varying weather conditions. While many skis are now "waxless," hard core skiers still prefer to apply wax. Arlein likely wants a Shark's help expanding production and distribution. Will a Shark wax positively to this product?
My Take On Mountain Flow Eco Wax
Back in the day, I did a lot of skiing. I did cross country and downhill. These days, my back and knees won't let me, plus I have acquired an aversion to cold weather. I've skied all over New England, Canada and the Rockies. It was fun while it lasted.
I switched to waxless skis when they first came out. Waxing is particularly important in cross country skiing as the proper wax gives you both better traction and gliding ability. You vary your wax based on temperature and snow conditions. I did notice a drop in performance, but I was willing to sacrifice that for the convenience of not having to wax up every day. As I've been away from skiing for nearly twenty years, I am not up on the current trends regarding wax, but I have to assume it's still a thing. That said, while I won't be a customer, I admire this company's ecological perspective.
Will Sharks Wax On?
I pretty much think any company has a chance in the Tank if they have a good product and a sound valuation. The thing with this product is it's so niche, it may not stand a chance. While other ski related companies have done well in the Tank, this product only appeals to a sub segment of the skiing crowd. That could be a problem.
The one ray of hope I see for Peter and Mountain Flow Eco Wax is Barbara. She invested in Ski-Z back in season ten. With a product already in the skiing market, she may find some value in Mountainflow.