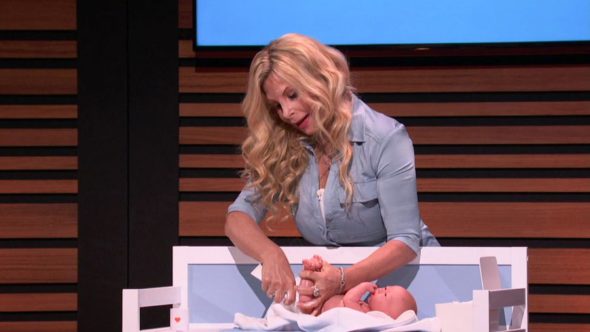 Alina Kravchenko seeks an investor for SwipenSnap, her patented diaper rash ointment applicator, in Shark Tank episode 1213. Kravchencko, who found herself pregnant and alone at age 23, always wanted to invent things. She always struggled putting diaper rash ointment on her squirmy son and she thought others must have the same problem. Alina says the idea came to her "like a gift from a higher source."
She knew she should get a patent. Since she had no money, she followed the advice of a patent office worker and got the book Patent It Yourself. After many sleepless nights of reading and preparing, five years later, she was awarded a utility parent. Now, SwipenSnap is a real live product. Alina quit her job to devote her time to building the business.
The product itself is fairly straightforward. It's a soft, flexible applicator that connects to the tube of diaper cream with a suction cup lid that holds it in place. When attached, a parent can apply diaper rash cream with one hand; you almost paint it on. It works with most brands of diaper cream, too. You can buy one on Amazon for $24.99. Alina likely needs help with manufacturing. Will a Shark snap up this deal?
Company Information
Video

Posts about SwipenSnap on Shark Tank Blog
Swipe n Snap – Diaper Cream Applicator
SwipenSnap Shark Tank Recap
Alina enters dressed as a Fairy Godmother. She's seeking $120,000 for 10% of her business. She tells her story and reveals that she only has $50,000 in sales over two years. The reason is, she didn't want to market the product until she had her patents in place.
Daniel is interested in the screw top technology which is at the heart of her patent. He offers to team up  with Lori at $120,000 for 33.3%, but he wants 100% of any other uses for the screw top patent. Kevin jumps in and offers to partner with Lori too. He says the two Sharks will offer $120,000 for 50% (25% each) and that they'll focus on getting licensing deals for the screw top technology. Alina agrees.
SwipenSnap Shark Tank Update
The Shark Tank Blog constantly provides updates and follow-ups about entrepreneurs who have appeared on the Shark Tank TV show. As of July, 2021, the deal with Lori and Kevin closed. Alina is still working a full time job as well as running the business. Earlier in 2021, she came out with a new version that works on both large and small threaded tubes. She also has a "contact for licensing" tab on her website. Alina also invented Tonerbum, an exercise tool that shapes your glutes. In September, 2022, she finally quit her job. As of May, 2023, reliable revenue figures are unavailable.