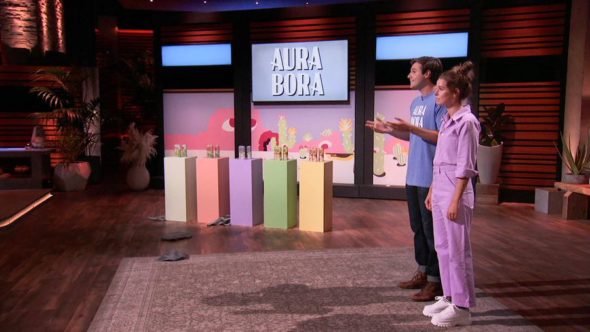 Paul and Maddie Voge serve the Sharks Aura Bora, their sparkling water with fruit and herb flavors, in Shark Tank episode 1213. Paul and Maddie are sparkling water aficionados and they didn't like what the world had to offer them. They had a Soda Stream and a pantry full of herbs and other botanicals and they began experimenting. Thus their business was born.
It comes in five flavors: Cactus Rose, Lavender Cucumber, Peppermint Watermelon, Basil Berry, and Lemongrass Coconut. They use non GMO ingredients and are sugar-free, calorie-free, and sodium-free. The couple launched the brand in January, 2020, right at the beginning of the Covid-19 pandemic. They've had success getting distribution despite that fact. You can find the product on the shelves of  variety of health food stores, small grocery chains and coffee shops in every state except Delaware.
A can will set you back $3 or you can buy a 12 pack for $30 on Amazon. With such success under tough circumstances, the Voges likely want a Shark's help getting into national chains and with cash for increased production. Will a Shark want to drink this Kool Aid?
Company Information
Video

Posts about Aura Bora on Shark Tank Blog
Aura Bora Shark Tank Recap
Paul and Maddie enter seeking $150,000 for 5% of their business. They confess they want a Shark's help getting into more retail locations. With the Covid-19 pandemic, Paul is unable to go to stores in person. They're currently in 488 stores. The couple also reveals they only own 74% of the company. The Sharks all like the product and its numbers: they're on track to do $3.5 million in sales.
Mark, Daniel and Lori aren't thrilled about the competitive nature of the beverage industry and they go out. Kevin offers $150,000. For that he wants a five cent per can royalty until he recoups $500,000. Afterr that, the royalty goes away and he gets 5% of the business. Robert offers $150,000 for 12%. Robert and the Voges haggle a little and settle on a deal that's $200,000 for 15%.
Aura Bora Shark Tank Update
The Shark Tank Blog constantly provides updates and follow-ups about entrepreneurs who have appeared on the Shark Tank TV show. It appears the deal with Robert did close. The day after they aired, they did more sales than the previous year!
In 2021, they were expanding into over 1500 7-Eleven, Sprouts Farmers Market, Whole Foods and Fresh Thyme stores. They also are expanding their direct to consumer sales efforts with a subscription service. In June, 2021, they raised another $2 million from SKU, venture capital fund, Balanced Breakfast, Leon Chen of Tiff's Treats, actor Scott Eastwood and musician Marley D. Williams. They used a  part of those funds to replace cans that froze in delivery trucks in Texas due to unseasonably cold weather in Texas.
In November, 2021, the company projects they'll end the year with $3 million in sales. In 2022, Maddie quit her job to join Paul working at the company full time.  As of November, 2023, the products are no longer in Whole Foods, but they're in over 2500 other retail locations. They have three bottling facilities across the USA and employ 13 people. It appears they hit their 2021 revenue goals; the company is valued at $20 million at this time.