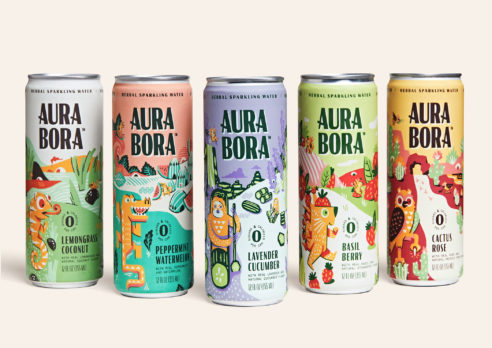 Paul and Maddie Voge created Aura Bora Sparkling Water while experimenting in their kitchen. They like sparkling water so much, they have their own Soda Stream. The couple decided to start experimenting with some herbs they had in their pantry and concocted some funky flavors. They decided – perhaps foolishly -to start selling their creations in January, 2020, right at the beginning of the Covid-19 Pandemic.
Starting a business during a global pandemic doesn't sound like a good idea, but the Voges made the best of it. They got a high powered branding company to design their cans, with Madeline's help. The couple also got distribution in 49 states (not Delaware) through natural food distributors KeHE and UNFI. That's not bad for being in business less than a year.
Aura Bora Sparkling Water comes in five flavors: Cactus Rose, Lavender Cucumber, Peppermint Watermelon, Basil Berry, and Lemongrass Coconut. If you see it in a store, it will cost you about three bucks a can. You can also buy a 12 pack for $30 on Amazon. The Voges did very well getting started in 2020,now they  want a Shark to get them more national distribution – perhaps even in Delaware!
My Take on Aura Bora Sparkling Water
I drink quite a bit of sparkling water since going keto at the beginning of 2021. My favorite is Sparkling Ice. I also try other brands too. I find variety appealing and these flavors sound interesting enough to try. I will definitely pick some up as they're available at one of my local markets.
What the Voges need is to get into Krogers and Publix and other national chains. While their distributors may be trying to get that done for them, a Shark could accelerate the process for them. Which Shark will want to swim in sparkling waters?
Will Sharks Drink Up and Invest?
The Voges are appearing in the Tank at a perfect stage for their business. They have proof of concept, sales (I assume), and the cajones to start a business during a pandemic. I can see the Voges snagging a Shark if their valuation is right. Mr. Wonderful HATES anything to do will shelf space in grocery stores, so I expect him to go out. Likewise for Robert. That leaves three Sharks.
Lori is vegan and healthy foods appeal to her. She has investments in the food space too. I expect a bid from her. Likewise for Mark. He's been snapping up healthy food businesses for the past few seasons. Daniel Lubetzky could bring some good food experience to the table, but I'm not sure if he bids or not. One thing is certain, the Voges will get offers, but will they take them?