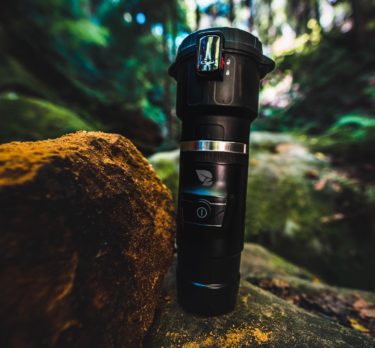 Ross Smith and Kweku Larbi invented The BruMachen because they like their coffee. They like it so much, they want to bring it everywhere they go, but not in a thermos that lets it lose its heat. No, they want a fresh brewed cup of coffee whenever and wherever they are. the two are an unlikely pair. Kweku is a math wiz and financial analyst while Ross is an internet celebrity who makes funny videos with his 94 year old grandmother.
As for The BruMachen, it's a fairly simple machine. It's about a pound and a half and it looks like a large flashlight. It brews 6 ounces of coffee at 190 degrees in about five minutes. It can plug into a 12 volt car outlet or a home outlet for charging. When your coffee is ready, it converts into a coffee cup. Kweku, ever the money guy, also touts how much money it can save you versus buying coffee at a convenience store or coffee shop. A cup from The BruMachen costs around 25 cents.
The guys got going on Kickstarter in January, 2020. They managed to raise $41,553 despite the Covid-19 pandemic. There were a few glitches with manufacturing and they ran out of money to ship their finished products. Backers outside the USA have yet to receive their coffee makers. Maybe they're hoping a Shark will help them with that.
My Take on The BruMachen
I drink a couple of cups of coffee every day, but I work at home, so brewing coffee is easy. I can see this as a useful tool for camping or for people who are always on the go. It would come in handy for long road trips too. At 12o bucks, it's a bit pricey, but certainly cheaper than going to Dunks or Starbucks every day.
It's something I would have wanted 20 years ago when I was on the road a lot. I'm pretty sure it's not something I'd use now though. I wish the guys well.
Will Sharks Brew Up a Deal?
I'm guessing these guys don't get a deal. The reason is the international shipping issue. This show was taped in the summer of 2020 and it's airing in January 2021. On the Kickstarter page, the latest update is dated January 7, 2021. This is where they were explaining their lack of funds for shipping. If they did a deal with a Shark, they'd have access to funds. That's why I think there's no deal.