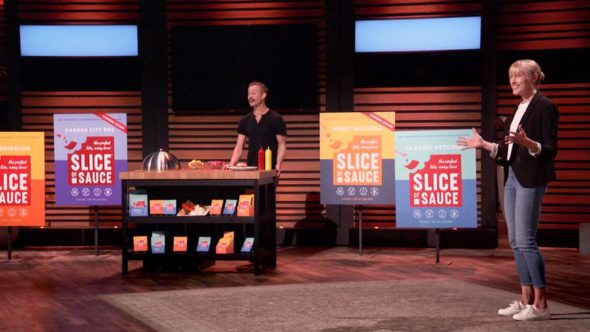 Cole and Emily Williams want a Shark to bite into a Slice of Sauce, their ketchup sheets, in epiosde 1211. The way Emily claims she invented the product as when she had a lot of leftover tomatoes while attempting to replicate her father's barbeque sauce. He owned a restaurant when Emily was growing up, whicg is where she got her love for cooking.
The slices are made by grinding up the ingredients (which are locally sourced, non- GMO and organic), baking them, then drying them out. There is noo corn syrup – a common ingredient in ketchup – in the slices. What's left is literally a sheet of ketchup – think of a ketchup fruit roll up. Used as a ketchup substitute, it will rehydrate when placed on a protein or something warm, but not to the point of dripping. The couple made a big splash on Kickstarter back in 2017 when they raised $30,090 – twice what they were asking for.
For now, the slices come in four flavors: classic ketchup, sriracha, Frank's Red Hot and Secret Aardvark (a habenero sauce). Ideally, they'd like to get the product on store shelves. It appears they haven't been able to since the Kickstarter, which is why they may be in the Tank. If they can convince a Shark to invest, perhaps you'll see it on store shelves soon.
My Take on A Slice of Sauce
When they did their Kickstarter, Emily and Cole got a lot of press. But then there were some rumblings in the foodie community. One blogger on Vice accused them of copying the product from chef Ernesto Uchimura, who began using what he called "ketchup leather" on his signature burgers at the LA eatery Plan Check. While the chef has moved on, ketchup leather remains on the menu.
As for the product itself, I'd be willing to try it, but not on a hot dog. It's a novelty item and far pricier than ketchup. A bottle of ketchup costs about two bucks while 8 ketchup slices costs $5.99. I doubt I'd go beyond trying it and use it regularly though.
Will Sharks Carve Out A Slice and Invest?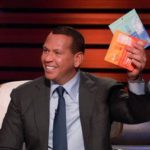 In the ABC press photos, A-Rod seems to like the idea, but there's something not right going on at a Slice of Sauce. They delivered product from their Kickstarter in early 2018, yet they've made no inroads to retail grocers since. On their website, they are selling product on a pre-order basis. That doesn't scream "I got a deal on Shark Tank." Unless they have a strong reason why they haven't done much in two years, they could be in trouble.
Still one of the Sharks could bite. Maybe it's A-Rod. I could definitely see Barbara bidding – she has had a lot of success with quirky food products. She'll want a big percentage though. I can't see the other three bidding though. With all the red flags about this business, I'm guessing it's no deal.