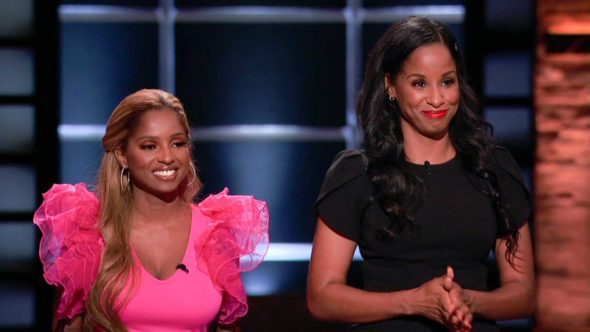 Sisters Mabel and Shaira Frías seek a Shark to invest in LunaMagic, their make up line inspired by Caribbean & Latin American culture. Mabel worked for years directing online sales of beauty products for Macy's, Nordstrom and other big brands. She wanted brighter, bolder colors in some of the lines, but the big companies were slow to accept her vision, so she enlisted the help of her sister – a make up artist – and they started a business.
They made their make up to embrace women of color and Latina culture. Even though they celebrate these cultures, they want their make up to be enjoyed by anyone who likes the "Latina Vibe." Their pallette make up has vibrant colors like hot pink, bright blue, purple, orange and more. A pallette and brush set costs $30 and a liquid lip gloss is $8.
The sisters have gotten a lot of exposure since starting in 2019. They've been featured in Oprah magazine, People, Pop Sugar and dozens of other media outlets. They also won a Glossier Grant. LunaMagic was one of 16 skincare/makeup businesses warded a share of $500,000 by the skin care giant. They set up the grants to help businesses run by women of color. Now, the Frias sisters want a Shark's help growing their business.
My Take on LunaMagic
I get what these women are doing and I applaud their efforts and wish them success. The thing is, I don't like a lot of make up on a woman. I prefer a more natural look. I dated a woman in college who put on a lot of make up and it was always getting on my shirt of skin. The relationship didn't last long.
I asked the gals in my family what they thought and my 16 year old liked the colors. My wife did not, but she rarely wears make up at all. There are a lot of women out there who like this kind of look, so I am sure they'll be successful.
Will Sharks Make Up a Deal?
The Frias sisters are of Dominican origin, growing up in the same part of New York as Alex Rodriguez – who is on the panel for this episode. Rodriguez, also Dominican, is likely to connect with the Frias' message. That may or may not turn into a deal.
As for the other Sharks, Lori could provide some juice with her QVC connections and she has a long history of investing in beauty products. She did pass on season six entrant The Lip Bar, a company that sold blue lipstick, because make up is too competitive. The Lip Bar went on to do millions in sales. Barabara likely won't bid, neither will Kevin, for the same reasons as Lori. That leaves Mark, and I doubt he'll do a deal. That leaves A-Rod. Even if Mabel and Shaira don't do a deal, they are going to be wildly successful.