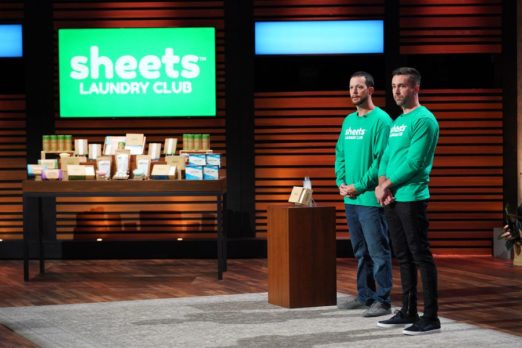 Chris Videau and Chris Campbell pitch Sheets Laundry Club, their sustainable laundry detergent business, in Shark Tank episode 1310. Videau is a military veteran who, in his many tours and travels, saw the horrible plastic waste problem all over the world. As we've seen with other pitches in season 13, by 2050 there will be more plastic by weight than fish. Chris wanted to do something about it, so he and Mr. Campbell started their business.
In December of 2019, they "opened their doors." They started with their laundry sheets. The sheets contain the detergent and are biodegradable after use. All packaging is biodegradable too. There are two scent options: fresh linen and unscented. They also sell scent boosters, dryer sheets and a stain fighter pack. Since they opened, they've expanded the line. For the kitchen, there's dishwasher detergent, liquid soap starter, floor cleaner sheets and coconut scrubbers. For personal care, there's deodorant and soaps. Everything is in compostable packaging.
One box of laundry sheets costs $19.99 and has 50 sheets in it. You can also bundle things into kits. For instance, there's a laundry kit that has two boxes of laundry sheets, two boxes of dryer sheets, four scent boosters and two stain fighter packs for $84.99. There are additional savings if you choose to subscribe as well. All products are available on the company website and Amazon. The Sheets guys likely want a Shark's help with digital marketing and scaling growth. Will a Shark want to clean up with this business?
Company Information
Video

Posts About Sheets Laundry Club on Shark Tank Blog
Sheets Laundry – Sustainable Cleaning Products
Sheets Laundry Club Shark Tank Recap
Chris and Chris enter the Shark Tank seeking $500,000 for 5% of the company. Videau tells about his experience in the military with plastic waste. They then explain about the laundry sheets and how they're better for the environment. The Sharks have bottles of water and they drop a sheet into it and shake. The sheets dissolve. The Shark like it. Next they talk about their plant based chemicals in the sheets. Videau then tells how burning plastics affected his lungs from flying Blackhawk helicopters through the smoke. Campbell tells about his experience with start-ups.
They go on to talk about the whole family of products – 46 different SKU's. The company's mission is to reduce plastic waste. In 2020, they had $2.04 million in sales. The sheets made up $1.2 million in sales. They have an exclusive agreement with Kimberly Clark who owns the patent on dissolvable laundry sheets. They pay the company a royalty and the agreement expires in October, 2024. Barbara doesn't like the royalty arrangement or the large number of SKU's. She also says they aren't persuasive enough; she's out.
The  guys say they'll do $7 million in sales in 2021 with 24% profit. They run a lot of digital advertising. Mr. Wonderful's Blueland competes with Sheets; he's out. Lori likes the mission, but not the valuation; she's out. They tell Mark they want the cash to go global. Mark thinks that will cost too much money and that the deal doesn't work for him; he's out.
Daniel asks if the $7 million in sales for the year is realistic. They say the  have 21,000 subscription customers which generates $3 million in sales alone. Daniel offers $500,000 for 10%. They don't want to go over 8%. Daniel counters with $500,000 for 8% and 2% advisory shares. After a brief conference, they accept. In the hallway, the guys say they are happy to partner with Daniel.
Sheets Laundry Club Shark Tank Update
The Shark Tank Blog constantly provides updates and follow-ups about entrepreneurs who have appeared on the Shark Tank TV show. Immediately after the show originally aired, Daniel tweeted this video to the world. He said in the preview of the videos "Love @sheetslaundry, but their brand name was dicey territory for my Mexican accent. Glad I made it through the segment without getting bleeped!" 
As of the first re-run of this episode in June, 2022, there is no evidence the deal with Daniel closed. After airing, they got on the shelves for a test at around 200 Harris Teeter supermarkets. As of April, 2023, they are no longer stocked in those stores. Since airing, other companies have begun offering laundry sheets. The deal with Daniel never closed either. As of August, 2023 annual revenue at this time is around $2.5-$3 million.
This page will be updated as new information on Chris Videau and Chris Campbell & Sheets Laundry Club becomes available.