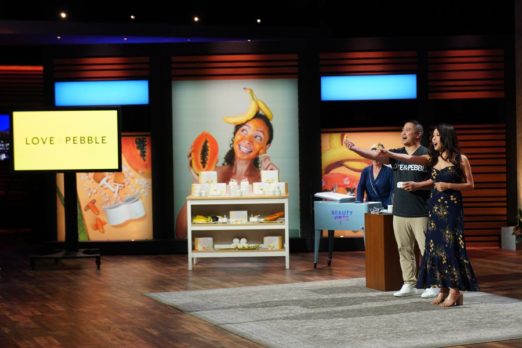 Husband and wife team Paul Tran and Lynda Truong seek a Shark for Love and Pebble, their natural skin care company, in Shark Tank episode 1310. Love and Pebble is a nod to the concept of penguins that present their mates with a pebble. The name represents love and loyalty, something Paul and Lynda have in their lives and business. Lynda got started with making natural skin care products as a teenager. She struggled with acne, but her family couldn't afford skin care products, so she made her own.
Fast forward to 2018 and she decided to start her own skin care line. With the help of her husband, who is a pharmacist by profession, they formulated their flagship product, beauty pops, and launched in 2020. The pops are made by mixing the pop powder with water and freezing them into a circular ice pop. Once done, you rub the frozen pop on your face to create a face mask that will tighten pores, exfoliate and nourish your skin. The pop powder has all natural ingredients: banana powder fruit extract, papaya powder fruit extract, wild turmeric powder and organic aloe vera powder. They also sell serums, derma-rollers and a micro needling serum tool.
The beauty pop kit costs $46. It comes with a mold that makes 2 pops at a time, a spoon, a mixing spatula and a five ounce jar of mixing powder. That's enough for 12-14 pops. Refills of the powder are $29. You can find the pops and other products on the company website or on Amazon. Paul and Lynda likely want a Shark's help with marketing and building the brand. Will a Shark pop an investment on this business?
Company Information
Video

Posts About Love and Pebble on Shark Tank Blog
Love & Pebble – Ice Pop Face Masks
Love and Pebble Shark Tank Recap
Paul and Lynda enter the Tank seeking $150,000 for 10% equity in their company. They introduce their beauty pops and talk about the all-natural ingredients. Next they tell how to make the pops. The Sharks have samples and  Daniel wants to know if they are edible: they are. Mr. Wonderful wants to know if plain ice would do the same thing. Lynda says the ice helps with puffiness and the resulting mask provides nutrients to the skin. There are other ice rollers and face masks on the market, but they are the first to combine the 2. The couple came up with the idea after Paul saw Lynda rubbing a frozen banana on her face, so he used his pharmacy skills to create a marketable formula.
The Sharks love the story but Mr. Wonderful wants to know numbers. Lifetime sales are $898,000. They just launched this year (2021) and went viral on Tik Tok with a before and after video of Lynda's mother. Each unit costs $9.20 landed and they sell for $46. Lynda sold her house to fund the business. Customer acquisition cost is $7.
They want a Shark to help them navigate the retail space but Mark cautions them not to overlook online selling. Skin care isn't for him; Mark's out. Kevin says it's not for him either; he's out. Daniel has no expertise in the space; he's out. Lori adores Paul and Lynda, but thinks they should focus on slow growth; she's out. Barbara wonders if the social media surge was a one time thing. Barbara doesn't think retail is the way to go but doesn't think they need an investor; she's out.
Love and Pebble Shark Tank Update
The Shark Tank Blog constantly provides updates and follow-ups about entrepreneurs who have appeared on the Shark Tank TV show. The company saw the typical sales spike after the show. Unfortunately, that spike caused them to lose money. They couldn't keep up with demand caused by the Shark Tank Effect and had to refund over $50,000 in orders. Paul quit his job as a pharmacist in February, 2022 to go full time in the business. As of November, 2023, they are introducing more flavors of pops and launching more skincare products inspired by super-fruits and science-based ingredients. Reliable revenue figures are unavailable at this time.
This page will be updated as new information on Paul Tran and Lynda Troung & Love and Pebble becomes available.