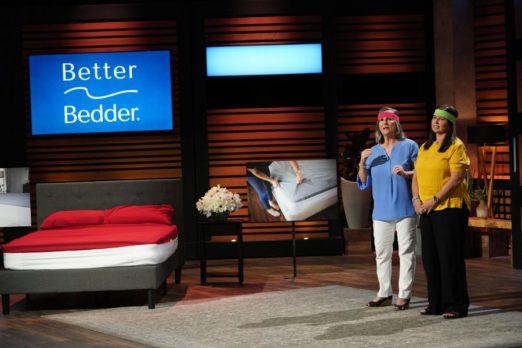 Judy Schott and Nita Gassen want to get in bed with a Shark when they pitch Better Bedder, their patent pending invention that makes making your bed easier, in Shark Tank episode 1212. The pair created the product to try and make making bunk beds easier. It didn't, but it made making regular beds easier.
Basically, Better Bedder is a giant headband that wraps around your mattress. It holds your fitted sheet and flat sheet in place, so you won't kick the sheets out in the middle of the night. They made their first prototypes on a sewing machine they taught themselves to sew on. After getting feedback at local farmers markets, they secured a local seamstress shop to manufacture for them.
A Better Bedder will set you back anywhere from $59 to $109, depending on your mattress size. They come in any color you want, as long as it's white. Once in place, it can stay on the mattress indefinitely. You can also tuck the remote or a book in it. The ladies likely want a Shark to help them grow the business quickly. Will a Shark want to get in bed with this business?
Company Information
Video

Posts about Better Bedder on Shark Tank Blog
The Better Bedder – Makes a Neater Bed
Better Bedder Shark Tank Recap
Judy  and Nita enter seeking $150,000 for 10% of their business. They want a Shark that will help them with marketing as that's not their forte. Even without marketing savvy, they're on track to do over $1 million in sales for 2020. This catches the Sharks' attention.
Barbara is the first to bite. She offers $150,000 for 20% and says she'll help increase margins and use her PR expertise to drive sales. Lori chimes in to offer $150,000 for 25% and says she'll bring them on QVC. Daymond offers the same deal as Lori. The ladies counter with 18% and both Lori and Barbara agree, but they go with Lori. Barbara says she'll go to 15% but they stick with Lori's offer, much to the chagrin of Barbara.
Better Bedder Shark Tank Update
The Shark Tank Blog constantly provides updates and follow-ups about entrepreneurs who have appeared on the Shark Tank TV show. The deal with Lori did close and the Better Bedder website got a complete overhaul right after the show aired. As of the first rerun in May, 2021 (2 and a half months after the original air date), they sold over 40,000 units. They have yet to be on QVC because they've been unable to maintain the inventory required for an appearance. Hopefully, Lori can help with that. Gassen wants the business to go global. She told a local news outlet "everyone sleeps on a mattress."
The business gets an update segment in episode 1314. In the update segment, they say they sold $157,000 worth of product the day after their segment aired. They're close to $2 million in lifetime sales. Lori produced a commercial for them and they rolled out in over 3000 Wal Mart stores. They are looking to expand their market to hotels, RV's, and the senior community. They hope to expand their product world wide. Lori says they'll do $20 million in sales in the next year. As of August, 2023, lifetime revenues are approaching $10 million. We'll see if Lori's prediction comes true.