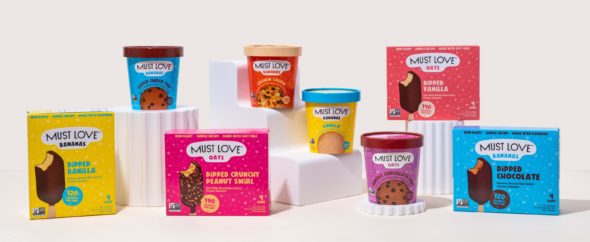 Mollie Cha and Hannah Hong are two best friends looking for a Shark to invest in Must Love, their plant based frozen dessert company, in Shark Tank episode 1309. The women met as undergrads at UC Berkeley and remained friends. They shared a common problem: they both became lactose intolerant in their 20's. To satisfy their cravings for sweet frozen treats, Mollie whipped up a batch of banana "nice cream" from pureed bananas, almond milk and vanilla.
It took some time to get the proper consistency, but once they did, they wanted to make it a business. In 2016, they did. Originally called Hakuna Brands, their products are in supermarkets all over the southeastern USA, including Sprouts, Winn Dixie and others. They have sales under $5 million life time.
Must Love has two main products: pints of "nice cream" and frozen "nice cream" bars. The pints cost $12 and come in four flavors: Banilla, Choco Choco Chip, Cashew Cookie and Double Chocolate Chip. A box of four bars is also $12 and comes in four flavors: Vanilla Banilla, Chocolate and Crunchy Peanut Swirl. In addition to bananas, the products contain oat milk and coconut. While they've made inroads with distribution, they likely want a Shark to help expand their shelf space in grocery stores. Will a Shark like this "nice cream?"
Company Information
Posts about Must Love on Shark Tank Blog
Must Love Shark Tank Recap
Hanah and Mollie enter the Shark Tank seeking $600,000  for 7.5% of their business. They open by showcasing the yucky ingredients in regular ice cream. Next, they tell the Sharks about their plant based ice cream and its ingredients. They also have plant based sprinkles.
The Sharks taste their samples and Lori likes it. So do the other Sharks. The women talk about their backgrounds and how they both have MBA's. They had $35,000 in sales in 2017. Since then, they doubled year over year. Year to date (they taped in mid 2021) they have $1 million in sales. They conservatively predict $1.7 million in revenue for the entire year, but they have a loss of $400,000. The reason is they've spent money on shelf space. They are in Sprouts and certain regions of Whole Foods. They did a successful test with Costco too and launched there.
They retail for $5.99 and cost $1.80 to make. Each of them invested $200,000 of their own money and they raised $1.4 million from friends, family angels and institutions at a $8 million valuation; they're also in the middle of a seed round at the same valuation.
Mark asks if they are ready to negotiate. Daymond says they need to respect the value of the Sharks; he's out. Kevin doesn't like their asking price; he's out. Peter says he invested in a similar business and as sales went up, margins went down, so he exited the business and got his money back; he's out. Mark likes the product but there are a lot of other products like this out there; he's out. Lori knows the space. She talks about Frozen Farmer and says they'll do $20 million in sales. There's a conflict of interest so she's out.
Must Love Shark Tank Update
The Shark Tank Blog constantly provides updates and follow-ups about entrepreneurs who have appeared on the Shark Tank TV show. The first re-run of this episode is June 3, 2022 – about five months after the original air date. Must Love products are still available at Sprouts and Winn Dixie and they rolled out in more Costco stores. As of June, 2022, the company is still in business; reliable revenue figures are unavailable