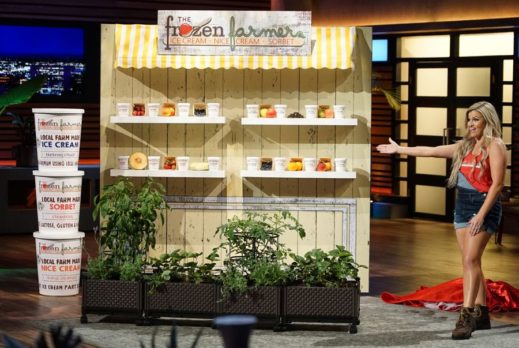 Farmer turned entrepreneur Katey Evans hopes the Sharks like her Frozen Farmer ice cream when she pitches the business in Shark Tank episode 1116. Evans, along with her husband Kevin, started the business in 2015 as a way to reduce waste on their third generation family farm. She states that 20% of all food grown on the farm never makes it to market for purely aesthetic reasons. In order to help their bottom line, they started turning that 20% of produce into super premium ice cream and sorbet.
As the owners of both the farm and the ice cream business, the Evan's claim they are both farmers and chefs. Katey's mother also helps with the business. One of the attractions of the business is the open kitchen concept where customers can watch Katey and company turn their farm grown produce into Frozen Farmer ice cream. Ever since starting the business, customers have encouraged the Evan's to try out for Shark Tank. The tipping point came when Bethenny Frankel, an occasional guest Shark, encouraged them to try out.
Frozen Farmer has 31 ice cream flavors, 8 sorbet flavors and 4 "nice cream" (a blend of sorbet and ice cream) flavors. All varieties are made from premium, locally sourced ingredients – many which come from the family farm. Katey sells Frozen Farmer products from a roadside stand at their farm in Bridgeville, Delaware, on the company website and from their mobile ice cream truck. They're also in about 200 area grocery stores and a dozen or so area restaurants. Katey likely wants a Shark to help her expand retail distribution. Will the Sharks like the taste of this deal?
Company Information
Video

Posts about Frozen Farmer on Shark Tank Blog
The Frozen Farmer – Farm Fresh Ice Cream
Frozen Farmer Shark Tank Recap
Katey enters seeking $125,000 for 20% of her business. She tells the story and hands out samples. To date, she' has product in 70 Delaware stores and has $31o,000 in sales for the year so far (she taped in September, 2019). 15% of sales are from the Delaware grocery stores, the rest is wholesale and sales from the farm stand. She wants a Shark's help getting a co-packer which will allow her to sell nationwide.
The Sharks love the ice cream, but they think her local success is partly due to her family's standing in the community. Her father in law died in the line of duty as a firefighter and the community rallied to help support the family. There are concerns there will be problems growing the brand beyond the local level.
Lori loves the products but doesn't love the packaging or marketing strategy. She offers to help with that, Because she believes in Katey, she offers $125,000 for 30% and Katey accepts.
Frozen Farmer Shark Tank Update
The Shark Tank Blog constantly provides updates and follow-ups about entrepreneurs who have appeared on the Shark Tank TV show. The deal with Lori closed and the company appears on Lori's website. In the six months between taping and airing, Katey leveraged her relationship with Giant Food Stores. Their farm already supplies the stores with produce and now Katey has her ice cream in all 169 stores in Pennsylvania, Maryland, Virginia, West Virginia, and Washington, D.C..
She's also started selling online, direct to consumers and is scaling production for nationwide distribution. Katey did NOT change the packaging though. The business gets an update segment in episode 1221. In the update – like most of the updates in season 12 – we'll see how Katey and Lori weathered the Covid-19 pandemic. As of May, 2021, the company has annual revenues between $900,000 and $1 million.
The update segment had big news! The company initially aired during the early stages of Covid-19 related lockdowns. Katey had a lot of inventory on hand in anticipation of the Shark Tank effect and she couldn't sell it so they went direct to consumer with some success. Then, a Wal Mart buyer came calling. Katey re-branded to Frobet, a combo of frozen yogurt and sorbet, and she's in 4300 Wal Mart stores! She's also in Stop & Shop and every Kroger store too. Before Shark Tank, she had $300,000 or so in sales. Now, she has over $1 million for the year and $15 million in committed purchase orders. This deal worked out well. In 2022, Lori predicts they'll do over $20 million in sales.
In June, 2022, the company got a $2.5 million line of credit from WSFS Bank to fuel its explosive growth. At the time the company secured the credit line, they were in over 8000 stores. In March, 2023, the company launched in Kroger stores. As a promotion to publicize the shelf placement, Frobet partnered with multi-platinum country music star Jimmie Allen to create Miss Angie's Peach Cobbler Frobert. The recipe is based on one of Allen's mother's recipes and is exclusive to Kroger. 2022 sales were over $20 million and should continue to grow.