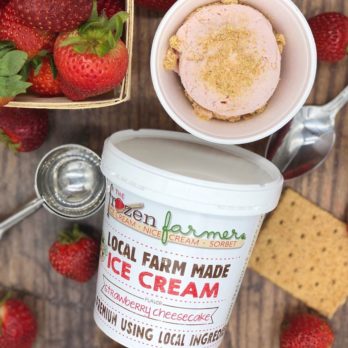 Katey Evans started The Frozen Farmer, her line of "farm fresh" ice cream, to solve a problem. Her husband's third generation family farm, Evans Farms, grows produce to sell at their own produce market and other markets and restaurants. The problem is roughly 20% of the produce they grow, they can't sell because it isn't aesthetically pleasing to the eye. Nobody wants to buy a strawberry that looks all warped and ugly, even if it tastes the same as a "good" one. Since farming is such a low margin endeavor, a 20% loss was a tough pill to swallow.
To try to remedy the lost inventory issue, Katey and her mother went to "ice cream school" and learned how to make ice cream. They use the unwanted produce as primary ingredients. The Frozen Farmer has a little shop next to the produce market, an ice cream truck and Katey wholesales to restaurants and and super markets near her Bridgeville, Delaware location. Patrons of the shop can watch as Katey makes ice cream with exotic flavors like Carrot Cake and Sweet Corn – along with more traditional flavors like vanilla, strawberry and cookie dough.
If you don't live near The Frozen Farmer, you can buy the ice cream online "soon" according to the company website. In addition to ice cream, they sell farm fresh juices, milkshakes, sorbet, nice cream (a blend of sorbet and ice cream) and home made waffle cones.
In the Tank
Katey says her customers have encouraged her to try out for Shark Tank since she opened in 2015. The Frozen Farmer has nearly unanimous rave reviews and Katey finally made a trip to an open casting call in New York after Guest Shark Bethenny Frankel sent her a video encouraging her to do so. It appears the product does very well locally, now Katey wants to go national. Perhaps a Shark will help her get there.
My Take on the Frozen Farmer
When I first read about Katey, it reminded me of Hungry Harvest, a business Robert invested in back in season seven. That business sourced aesthetically unappealing produce and sold it at a discount. They also provide free ugly produce to food banks. Katey and her mom took this concept a step further and, like Hungry Harvest, turned unwanted fruits and veggies into a profit center.
As for the ice cream, I haven't tasted it personally, but people rave about it. Like most people, I like a dish of ice cream every now and again and I'd gladly eat this if given the opportunity.
Will Sharks Dish Out a Deal?
Ice cream companies and most frozen food businesses typically don't fare well in the Shark Tank. The logistics of shipping frozen goods and the competition for shelf space in stores is a conundrum Sharks tend to shy away from. That said, with a franchise model or a strong co-packing strategy, Katey could get a Shark to bite.
Ultimately, expanding the business would require sourcing more unwanted produce on a national level if Katey wanted to stay true to her mission. That's another logistical hurdle for the Sharks. I think every Shark will like Katey and her ice cream, but I think she will leave with no deal.