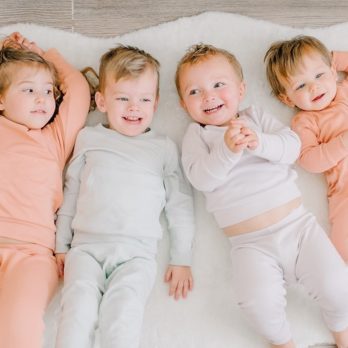 Linsey Fuller and Lili Yeo are the two moms behind Goumi Kids (pronounced GO ME), a ten year old kids clothing company that enters the Shark Tank in episode 1116. They named the company after the goumi berry, the fruit of a tree that's "able to thrive in all kinds of conditions." The two moms started their business at the kitchen table while evaluating baby clothes. They wanted to create clothing that's functional, beautiful and good for the planet.
It wasn't easy for them at first. They sold direct from their website and made the trade show circuit. Eventually, they carved out a solid business with a strong social mission. In addition to selling baby clothes that are beautiful and functional, they help Neonatal Intensive Care Units (NICUs) by donating baby mitts which decrease accidental extubations by 84%. They also protect women from human trafficking and have personally helped over 80 women escape from bad situations. On top of all that, they donate booties and  mitts to needy kids worldwide.
Good Business
As for the business end of things, GoumiKids' initial bread and butter was their "stay-on mitts made of soft, baby-friendly organic cotton, designed to keep babies from scratching." Those first mitts launched a line that includes booties, pajamas, onesies and more. They initially sold to hospitals, mom and pop baby boutiques and retailers like Nordstrom.
In 2017, Goumi Kids hit $1 million in sales and began the shift to selling direct to consumer via their website and Amazon. Since then, they've been growing at about 35% per year. People like  the soft, 70% bamboo fabrics and whimsical patterns designed to stimulate babies' minds. They've received several rounds of Venture capital funding in the past three years, now they want a Shark to join their team.
My Take on Goumi Kids
I think these women are smart and they know their business. Linsey co-founded another apparel company and Lili was a fashion marketer who's worked with some big, international brands. Together, it's hard to imagine how they could fail.
What I'm wondering is why they're in the Tank at all. They have a successful, mature business that's making money. Goumi Kids sells in over a dozen countries and has a strong brand with loyal customers as evidenced by their 21% repurchase rate. While I don't begrudge them their success in any way, I kind of feel like they're on the show for "the commercial."
Will Sharks Find a Fit?
Anyone in their right mind would want to invest in a solid company like GoumiKids. The question is, will a Shark? Whenever a company that's taken venture capital comes into the Tank, they're often too diluted to make a Shark's offer worthwhile. I predict there will be multiple bids.
I wouldn't be surprised if all five Sharks bid. My guess is Linsey and Lili will wow the Sharks with their numbers and business acumen. They'll do a deal, but it won't survive due diligence.