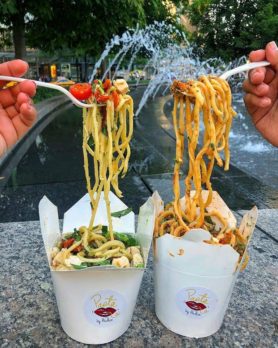 If anyone can make a fast casual, fresh pasta restaurant a success, it's brandon Fay. He's a well known New York City TV Chef and he ran The Trattoria Dell'Arte, one of NYC's most successful Italian restaurants, for nearly 18 years. His latest venture, Pasta by Hudson, takes fine Italian cuisine and puts it in a fast casual environment, without sacrificing quality.
New Yorkers should be familiar with fresh pasta – there are nearly one million Italians in the city! Some of the best Italian food comes out of New York, but not as fast food. Fay located Pasta by Hudson in one of the busiest pedestrian locations in New York City: The Turnstyle Market – a one block, underground market near Columbus Circle. Sales and reviews are both very good.
While customers can order uncooked fresh pasta to go, the primary focus is on cooked meals. It's mostly a la carte where you pick a pasta, sauce and add-ins (like meatballs for instance). Fresh pasta is continuously turned out by the kitchen. Brandon likely wants to expand the concept through franchising, though that isn't clear yet. Franchise restaurants fare well in the Tank and he's hoping a Shark will like his fare.
My Take on Fresh Pasta
My nana used to make fresh pasta all the time when I was little. She taught me how to do it and I occasionally make it for my family. There's nothing like fresh, homemade pasta. It's far more delicate than the stuff you get from a box. When I get a pasta dish at a restaurant, I can tell if it's made fresh or not.
Needless to say, I like pasta and I like the pricing at Pasta By Hudson. Customers can get a good portion (enough for leftovers too) for less than fifteen bucks. Fast casual pasta joints have not exactly littered the restaurant landscape, so Fay may have something. I'll take some bucatini with pomodoro sauce and meatballs please!
Do Sharks Eat Pasta?
Brandon certainly has the credentials and a record of success in the restaurant business. The Sharks will like that, Barbara may even know him, or at least know of him. Barbara has had the most success with restaurants in the Tank. Couple that with the fact that she's a New Yorker and she'd be the perfect Shark for this deal.
The others may bid too. Mr. Wonderful has some food businesses in his portfolio, as do Lori, Daymond and Mark. If the value is there for the Sharks, any one of them could bid, but Barbara would be the best partner.