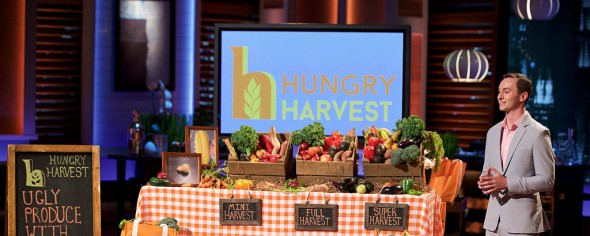 Evan Lutz hopes the Sharks find Hungry Harvest, his "ugly produce" subscription business, an appetizing investment opportunity in Shark Tank episode 715. Lutz is taking a concept that's been catching on in France for several years into the on-demand, tech space. Hungry Harvest sources produce from wholesalers that never makes it to retail stores and sells it at a discount, all with free delivery.
"Ugly produce" is produce that is perfectly edible, but aesthetically unappealing. For instance, misshapen potatoes taste the same as "good-looking" potatoes, but they get tossed because consumers don't like the look. The same goes for any irregularly shaped produce, whether it's a lopsided apple, awkward head of lettuce, or a bumpy carrot. Over 6 BILLION pounds of perfectly edible produce ends up in landfills every year, simply because it doesn't look good.
Lutz buys that produce and sells it to consumers who typically save 10%-20% over "good-looking" produce. Hungry Harvest also donates 1.2 pounds of produce to greater Washington D.C and Baltimore area food banks and free farmers' markets for every bag of produce it delivers to paying customers.
The business delivers produce each week in re-usable bags. Customers pay $15-$25 per week for a bag of produce. For example, a $15 mini harvest bag would contain 1-2 Types of Leafy Greens, 3-5 Types of Large Vegetables, and 2-4 Types of Fruits. There are also fruit only options and organic vegetable deliveries.
Lutz probably wants a Shark to help him expand his geographic territory. Will a Shark want to eat the vegetables?
Hungry Harvest Shark Tank Recap
Evan opens with an at home segment in Baltimore. Growing up there, he saw way too much poverty and he was  shocked about produce waste. He made it his mission to help consumers to eat healthy and help their communities at the same time. He's invested his life savings in Hungry Harvest and needs the Sharks to continue.
Evan enters the Tank seeking $50K for 5% of the business. He tells the story of shiny apples and asks how did they all grow so nice. The reality is only "pretty" apples make it to stores, the ugly produce ends up in landfills. Evan purchases surplus, ugly produce from local farms. He also sends food to hungry families. It's a win/win/win situation.
He hands out samples of ugly carrots and explains the 3 size options. Hungry Harvest produce is just as fresh as its pretty counterparts, but visually unappealing. To date, he has a  net loss of $20K. Sales were $37K the first 6 months, $100K for the last 4 months with 500 active users. The service saves his customers time and money and he distributes 5000 pounds of produce in impoverished areas each month.
Barbara wants greedy profits before philanthropy. She talks about Grace and Lace opening five orphanages after they make profits. Kevin compares Hungry Harvest to Plated. Robert offers $100K for 10% and says he can help run, scale, and  empower the business. Evan asks for other offers and Mark flips out.
Kevin says there's synergy with Plated for logistics. Robert interrupts while Kevin is making an offer and says "take my offer or argue with Kevin and Lori. Evan takes Robert's offer!
RESULT: DEAL with Robert for $100K for 10%
Hungry Harvest Shark Tank Update
The Shark Tank Blog constantly provides updates and follow-ups about entrepreneurs who have appeared on the Shark Tank TV show. The Deal for Hungry Harvest closed. Daily website visits after the original air date went from 150 to over 3,000. The company acquired Durham, NC based Ungraded Produce – a company offering the same services as Hungry Harvest – in July, 2019 for an undisclosed amount. In March, 2020, the company took $21 million in Venture capital funding. Evan plans to use the funds for marketing, new hires and supply chain logistics. These expenditures were necessary due to explosive growth during the Covid-19 pandemic.
The company currently serves Maryland, Washington, DC, Virginia, Greater Philadelphia, Southern New Jersey, Northern Delaware, South Florida, The Triangle Area & Charlotte in North Carolina & the Detroit Metro Area. They hope to expand to other markets in 2023. As of April, 2023, they haven't grown their delivery footprint. They did open a wholesale division to sell to restaurants and food service operations. In October, 2023, they raised another $1.15 million with a goal to raise $5 million. They also introduced Harvest RX which delivers food directly to Medicare patients. Annual revenue is $4 million.
Posts About Hungry Harvest on Shark Tank Blog
Hungry Harvest Company Information
Video