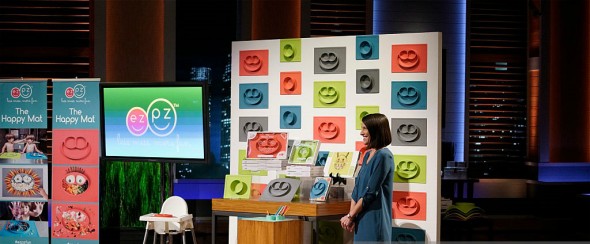 Lindsey Laurain is a Kickstarter "momtrepreneur" who doubled her $35,000 funding goal to get the ezpz No Mess Happy Mat into production back in the fall of 2014. She pitches her company to the Sharks in Shark Tank episode 715.
Laurain invented the ezpz mat to help parents with messy kids. The product is a food-grade silicon place mat and plate. The plate (or bowl) is part of the place mat, which suctions to any hard surface. This eliminates a lot of the mess kids leave on the table or counter top and the suction action assures plates won't get dropped (or flung) by messy eaters. The compartmentalized plate – shaped like a smiley face – is sure to be a hit with kids and parents alike.
The mats are CPSIA Certified, FDA approved and BPA, PVC, lead & Phthalate-free. The ezpz is dishwasher and microwave safe, too.
The Kickstarter campaign allowed Lindsey to get the tools made for mass production and do a large-scale production run. First available in early 2015, the ezpz has solid sales and is already selling well on Amazon. Laurain is anticipating big demand in conjunction with her Shark Tank appearance and has plans to launch a "mini mat" and and cup in 2016.
Will a Shark find it easy to invest in ezpz?
ezpz Shark Tank Recap
Lindsey enters seeking $1 million for 5% of her business and the Sharks hoot. She asks who's witnessed toddler meal time and shows a video of her kids being slobs. She created Happy Mat to solve the problem. Happy Mat suctions to surfaces, revolutionizing the feeding industry. In a new video, she now has happy, neat kids.
She hands out samples. Robert and Lori say it's cute; Barbara likes it too. Lindsey makes it for $6, wholesales for $12.50 and sells it for $24.95. Kevin wants to know sales and Lindsey says she wanted to ask for 5 times what she is asking! She's done 85,000 units at $1.2 million in sales. She expects to do $30 million this year – it was the hit of the food show and an Australian distributor is taking a container full every month.
She's made $140K in profits and got the valuation by projecting out 5 years. She's met with German companies who want to buy her out.The product is in Nordstrom and in 200 boutiques. She sells 500 mats per year, per store. Kevin says he's getting ready to eviscerate her!
Who's In?
Robert says she doesn't have data and she's all over the map. He needs solid data, not a story; he's out. Lori sees concerns with her patent; she's out. Kevin says the risk is all on him as an investor. He offers $1 million for 5%, if she doesn't make $10 million in sales next year, he gets 20%.
After a break, Robert says Kevin is throwing all the risk back on her. Mark says he wouldn't do a deal with her no matter what, because he'd go nuts! Barbara says she believes in her. She'll do $1 million, but it comes at $250K a year if she hits those targets. Kevin says he's going to help with legal, because it'll get knocked off and he'll protect it. Barbara says she's thinking of changing her offer and Robert tells Lindsey to make a decision.
She says she's going to move on. Robert says Kevin gave her what she asked for and wants to know why she said it if she didn't mean it. Barbara says she was successful because of her self-doubt; it always made her pause and her judgement card made her successful. Lindsey passes, she says the deal didn't feel right. Robert says great entrepreneurs live on paranoia.
ezpz Shark Tank Update
The Shark Tank Blog constantly provides updates and follow-ups about entrepreneurs who have appeared on the Shark Tank TV show. After the show aired, Lindsey took a bit of heat for being a Shark Tank "gold-digger" and for being unprepared. She's started international distribution in Europe and continues to distribute her product.
In 2016, the company was sued by Luv N' Care Ltd. for patent infringement. After several years of legal wrangling, the case was dismissed without prejudice in October, 2019.
She made distribution deals with buybuyBaby, Target, Nordstrom, Bed Bath and Beyond, and Crate and Kids. She also has an Amazon store. The company reached its goal of $10 million in sales at the end of 2017. As of April, 2023, the company is valued at $20 million with $8-$10 million in annual revenue.
Posts About ezpz on Shark Tank Blog
ezpz Company Information
Video