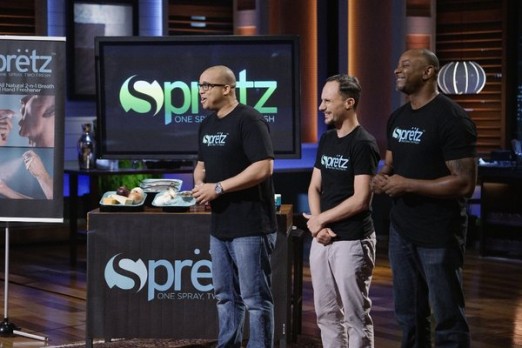 Tony Gauthier, Scott Hoag, and Wesley Osaze pitch Spretz, their 2-in-1 breathe spray that also freshens hands in Shark Tank episode 715. Gauthier created the dual purpose spray in 2012 to give himself an all-purpose refresher from smoke and food odors on his hands and breathe. It's the only natural freshener that can be applied orally and topically.
Spretz is made in the USA in small batches and, while the company claims there are no chemicals and no additives, there isn't an ingredient list on the company website. It comes in two flavors: cinnamint and peppermint. Each bottle has about 70 "spretzes" in it. As of a week before airtime, there isn't any way to buy the product from their website. It would appear the company has some local retail distribution in the Oakland area, but they appear to want to use Shark Tank to springboard demand for the product. While
Will a Shark see a fresh opportunity with Spretz?
Spretz Shark Tank Recap
Tony, Scott, and Wesley enter seeking $100K for 20% of the business. Tony started when he wanted to remove smoke odors from his hands. Once, he actually rolled gum in his hands! The threesome perform a "welcome to the future of fresh" hip hop pitch, which makes the Sharks smile.
The guys hand out samples and Lori likes it. They explain that it's not a hand sanitizer. Kevin wants to know how people know to use it on their hands and the guys say their new label will help. They sold 1000 units for 3.95 for income of $3500 in 60 days and they have purchase orders.
Lori wants Tony to rub garlic on his hands so she can do a "before and after" smell test. He rubs it on his hands as Kevin says the product needs to be on every convenience store shelf in America. Mark says getting on the shelf is easy, getting product off the shelf is the hard part.
Mark's not making the connection. He thinks they need $1 million to educate people; he's out. Robert likes the hustle, but not the product; he's out. Kevin goes out too after an emotional plea. Barbara thinks the team is powerful, but they're wasting their time and energy on one tiny product.
Lori smells Tony's hand again and says it works! She says she'd invest in the team, but it's not the right product for her. She's out, but she tells them to go out there and grind – there will be great things to come.
RESULT: NO DEAL
Spretz Shark Tank Update
The Shark Tank Blog constantly provides updates and follow-ups about entrepreneurs who have appeared on the Shark Tank TV show. The guys didn't take advantage of the Shark Tank effect and Spretz hasn't made big inroads into convenience stores or gas stations.
In 2021, Tony is still out there hustling Spretz while working as a Public Information Officer at the California Department of Transportation. It's no longer on Amazon, but the website says you can still buy it. In March, 2022, the website is down. By August, 2022, the website is back up, but all products are "sold out." Shark Tank Blog will provide more information as it becomes available. In December, 2022, the website is down again. In March, 2023, when you go to the website, it says "this website has expired."
Posts About Spretz on Shark Tank Blog
Spretz Company Information
Video