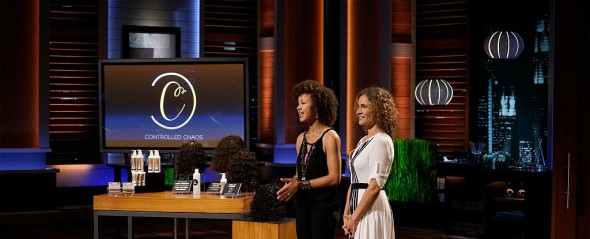 Maureen Emerson and Alanna York hope to get a Shark's investment when they pitch Controlled Chaos, a curl crème and styling system for curly hair, in Shark Tank episode 715. Controlled Chaos is a single product/brand pulled from Alanna York's Use Me Products line of hair care products. York, who owns a hair salon in Portland, Maine, has had her own hair care line for a number of years. Her flagship product is a special styling crème for curly-haired folks.
York has been selling hair care products for years from her salon. She experimented with all-natural, vegan hair care products to market to salons for the past few years and decided to slim down her branding and message to target the chaos that is curly hair.
The brand is so new that her social media presence and website weren't even up the week before airing! The women likely are using the Shark Tank platform to launch their brand and want a Shark to help them get inventory and market penetration. York has a lot of experience in the hair care industry, but will a Shark think her expertise is enough to warrant an investment?
Controlled Chaos Shark Tank Recap
Maureen and Alanna enter seeking $50K for 20% of the business. They begin by saying everyone's heard of a bad hair day, but how about a bad hair life? They've been hassled about wild curly hair all their life. Some curl products make hair crusty – Controlled Chaos doesn't.
Curls are not a curse; to prove it, they have the Sharks run their hands through hair with both kinds of curly gel. Controlled Chaos feels soft. To date, they've had $300K in sales to hair salons. In 2007, they had a distribution deal, but their distributor required lots of products. Last year, they did $85K in sales.
They stopped advertising and selling because they ran out of money, but Alanna says she's awesome at business; Mark doesn't agree. Kevin sarcastically asks how the pitch is going when Alanna reveals she has over $300K invested. The salon does over $1 million per year.
Lori says every salon owner wants their own line, why push the one product? Alanna has a deal for a PO with a national distributor if they change the packaging. Kevin says he has curly hair but it's really short; he wants to know what they'd do with the money. Alanna says she believes in her product and Mark replies "I don't invest in believe, I invest in DO."
Kevin says 50% of women have curly hair and the product is good, but they are too chaotic. After a break, Kevin offers $50K for 50%, but he wants nothing to do with other products. Mark says they better say yes before someone changes their mind. Lori offers $51K for 50%. Barbara offers $50K for 51% of the business, but only one-third of the revenue; she trusts them. Lori offers $60K for 50% and says she can move a lot of product; she'll also help redesign the packaging. Robert clears field – he says there are 3 good offers; he's out. Alana says she's been on QVC for two years in her head and accepts Lori's offer. As they're exiting the Tank, Kevin says it's going to sell because "I KNOW HAIR!"
RESULT: DEAL with Lori for $60K for 50%
Controlled Chaos Shark Tank Update
The Shark Tank Blog constantly provides updates and follow-ups about entrepreneurs who have appeared on the Shark Tank TV show. The deal with Lori never closed.  In the two months following the original air date, Controlled Chaos sold over 10,000 units of their curl creme. Other products in her line sold well, too. Alanna credits Jess and Sarah of PiperWai for giving her advice on weathering the "Shark Tank Effect."
The company now has an independent distribution facility and hired several new employees to deal with the increased sales volume. Retail distribution agreements are in the works, including Canadian distributors. Online sales have also drastically increased. The company gives 1% of its profits to 1% for the Planet, an organization that gives to environmental causes. It looks like Alanna finally has control of her business!
As of April, 2023, she's still in business and has an Amazon store. Annual revenue is $3.5 million.
Posts About Controlled Chaos on Shark Tank Blog
Controlled Chaos Company Information
Video