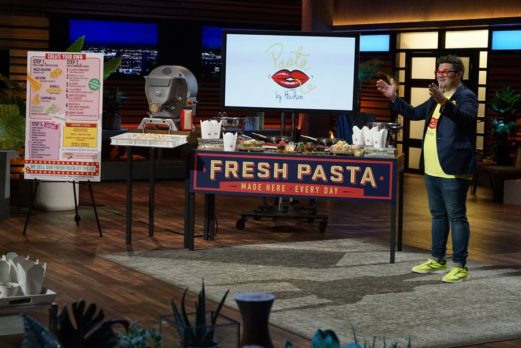 Restaurateur Brandon Fay seeks an investor for Pasta by Hudson, his casual pasta restaurant concept, in Shark Tank episode 1116. Fay is no stranger to television – he has his own Sunday cooking show on the local New York City CBS affiliate. He's no stranger to the restaurant business either – he was managing director of The Trattoria Dell'Arte, one of NYC's most successful Italian restaurants, for nearly 18 years.
Fay travels frequently to Italy to stay up to date on the latest trends in Italian cuisine, but he knows pasta is a staple EVERYONE likes. Pasta by Hudson is named for Fay's now three year old daughter with "a personality as big as New York City." Everything is made fresh daily and patrons can even buy fresh, uncooked pasta by the pound.
The menu a la carte and fairly simple. Patrons pick one of six pasta shapes, one of six  sauces and one of the 13 add-ins and that's it. There are also five pre-selected meals that are "Hudson's Faves." The menu is by no means extensive by design. The concept is to provide hearty, fresh, Italian "slow-cooked" food quickly.
Fay has had a lot of success at his one location in one of the busiest foot traffic spots in New York City. He likely wants to expand the concept to other locations and sell his uncooked pasta in retail locations. Several of the Sharks could provide value to his business, will one of them want to bite on this Italian food concept?
Company Information
Video

Posts about Pasta by Hudson on Shark Tank Blog
Fresh Pasta Restaurant – Pasta By Hudson
Pasta by Hudson Shark Tank Recap
Brandon enters seeking $150,000 for 10% of his business. He tells his story and hands out samples. The Sharks LOVE his food and say the meatballs are the tastiest they've ever had. Brandon tells the Sharks he did $590,000 year to date (2019) out of a 390 square foot space. He wants a Shark's help to open three new locations in high traffic areas in NYC.
Barbara makes the first offer, but she isn't interested in the restaurants. She offers $150,000 for 50% of a newly created frozen meatball business. Lori wants to bid, but she wants Mark as a partner. Mark would give $100,000 for 20% and Lori would pitch in $50,000 for 10% for a total of  $150,000 for 30%. Brandon eagerly accepts!
Pasta by Hudson Shark Tank Update
The Shark Tank Blog constantly provides updates and follow-ups about entrepreneurs who have appeared on the Shark Tank TV show. The deal with Mark and Lori never closed. Unfortunately for Brandon, this show aired during the Covid-19 pandemic. He made meals to go throughout, but business suffered. The business also provided meals for nurses and first responders throughout the pandemic.
Brandon also appears to have taken Barbara's idea and will soon start shipping frozen meatballs by mail. The first re-run of this episode airs during the worst rioting New York City has seen in over a century. It seems Brandon can't catch a break.
As a result of pandemic restrictions, Brandon moved from the underground market to an above ground location in Chelsea. As of July, 2021, Brandon managed to keep things going and had sales of $800,000-$900,000. He opened a sit down restaurant called The Perry Club once the riots died down. He also added pizza to the menu. In March, 2022, with things near fully opened up in New York City, he added a catering and events arm to the business. As of August, 2023, annual revenue at this time is between $3 and $4 million.