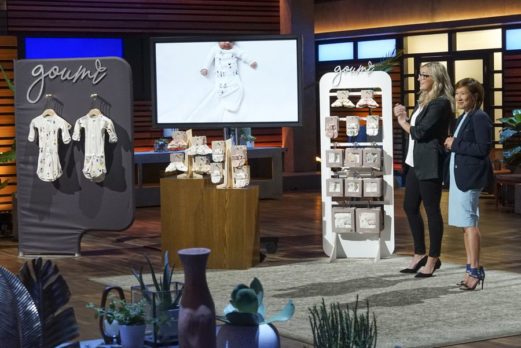 Linsey Fuller and Lili Yeo introduce the Sharks to Goumi (pronounced GO ME), their line of intelligently designed, sustainable baby clothes, in Shark Tank episode 1116. The story of how the business was started is a familiar one in the Shark Tank. Lily and Linsey, both new moms, were sitting at the kitchen table talking about baby clothes. They wanted clothes that were beautiful, functional and sustainable. They couldn't find any products that checked all three boxes, so they decided to start their own line.
In 2010, they created Goumi and set out to take on the world of baby fashion by storm. Along the way, they got philanthropic. A NICU nurse approached them and asked them to test their baby mitts to help prevent unplanned extubations in  premature babies. The mitts decreased the problem by 84%! Now, they distribute the mitts to NICUs all over the world through the March of Dimes. To date, they've donated over 12,500 pairs of mitts and boots to babies in need.
As for the products, they sell a lot of different things: booties and mitts, onesies, hats, pajamas, gowns and more. All their tops have built-in mitts and pants have reinforced knees. They're proud that they make their clothes "organic, eco friendly, and sustainable." The company has a well stocked Amazon Store and sells baby clothes in several hundred mom and pop baby stores nationwide. They likely want a Shark to help them get to the next level with big box distribution. Will a Shark want in on this company?
Company Information
Video

Posts about Goumi on Shark Tank Blog
Goumi Shark Tank Recap
Linsey and Lili enter seeking $1,000,000 for 8% of their business. They explain their story and hand out samples. They project $2.5 million in sales for the year (2019) and have $5.8 million in lifetime sales. The Sharks all dislike the valuation and have concerns about the company's pricing.
Linsey and Lilli say they want premium pricing for a premium product, but Mark, Lori and Barbara go out. Daymond offers $1 million for 30%. Kevin offers to loan them the money at 9% plus a 10% share of the business. Even though they have a loan at a lower rate they haven't drawn on, they want a Shark so they accept.
Goumi Shark Tank Update
The Shark Tank Blog constantly provides updates and follow-ups about entrepreneurs who have appeared on the Shark Tank TV show. The deal with Kevin never closed. Even though this episode aired during the Covid-19 pandemic, sales surged after the show. 90% of their sales are online, so a drop in retail store traffic didn't affect them. The company is also donating a percentage of sales to Covid-19 relief efforts. They added adult clothing to their line with items like hoodies, sherpa jackets, robes and tee shirts. As of March, 2023, the company is doing $1.9 million in annual revenue.