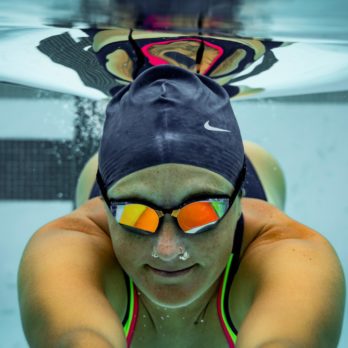 Bo Habber and Rasmus Barfred, two of the three co-founders of the Magic 5, created their custom swim goggles to solve a common problem for swimmers: swim goggles. Goggles can be a pain. They leak, they're too tight sometimes and hurt, they fog up or, worse, they fall off when you enter the water. Michael Phelps famously had his goggles break when he dove in to swim the 200 meter butterfly in the 2008 Beijing Olympics. He still won the race, but an incident like that could kill a race for lesser swimmers.
Habber, Barfred and company co-founder Nicholas Granet (who does not appear in the Tank) went on a two year, world-wide tour to learn everything there is to know about making swim goggles. Then, in 2018, they set up shop in Charlotte, North Carolina where they built a manufacturing facility. Charlotte must have been a bit of culture shock for the three men who all hail from Denmark. They're all big swimmers, too. Habber and Barfred do triathlons and Granet swims for the Danish swim team.
What makes these goggles special is the technology. Each pair is unique and designed to fit the customer's face. Customers scan their face with the Magic 5 app and they build the goggles to spec. Their motto: "One size shall fit only one." Because they're built to fit only you, they're contoured to the shape of your face and temples and won't leak or come off when you dive in. A pair of goggles will set you back $55-$65 depending on the style. These guys likely want a Shark to expand their manufacturing capabilities. Will the Sharks swim with Magic 5?
My Take on The Magic 5
My wife coached swimming for 23 years and before that was a Canadian swim team qualifier for the 100 and 200 meter breast stroke. Our kids all grew up swimming, two swam in high school and one, my son, swam in college where he still holds a couple of school records. Needless to say, I understand the problem The Magic 5 guys are trying to solve.
At the many swim meets I went to, I don't think there was one where at least one kid lost his/her goggles. Unlike Michael Phelps, most would not win their race. Most goggles are $10-$15, so these custom goggles are on the pricier side, but serious, competitive swimmers will definitely drop a dime on these. I am in.
Will the Sharks Swim with Goggles?
The key to this business is the technology, which could interest the Sharks. I have a feeling they have decent sales because a lot of prominent swimmers are wearing their goggles. This company should field multiple offers, even though it's a fairly niche business. The question about whether the technology can be put to other uses could come up and really heat the Tank up.
I think, assuming the value is right, Mr. Wonderful, Mark and Nirav will make offers. Lori will think it's too niche and Barbara often gets confused by the jargon with technology companies. I expect a deal here too.