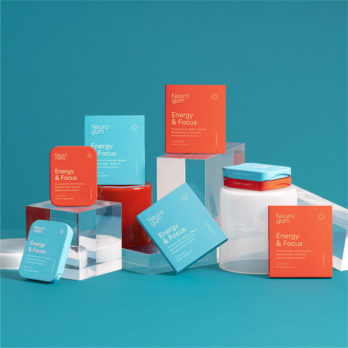 Kent Yoshimura and Ryan Chen want a Shark's help growing Neuro, their energy gum and mint company, in Shark Tank episode 1120. Neuro Gum and Mints are vegan, gluten-free, aspartame-free, sugar-free, and contain natural green tea caffeine, L-theanine, B6, and B12 vitamins. The guys met in college and became friends. They're both into athletics: Kent was training for the Japanese Judo team while fighting Muay Thai internationally and Ryan was training with the U.S. Paralympic team.
Both men wanted an energy supplement that didn't involve a lot of sugar or chemicals. They were into nootropic pills for various things, but they also wanted to be able to get their boost from a gum or mint. The guys blend their patent pending nootropic (cognition enhancing) caffeine + L-theanine blend with various vitamins for different nootropic results. Flavors like "Energy and Focus" or "Calm and Clarity" come in either peppermint, cinnamon, ginger chai or honey lemon.
They pre sold their first gum on IndieGoGo where they raised $20,571 back in 2015. They were kicked off Kickstarter because Kickstarter doesn't allow energy supplements other than straight caffeine. A six pack of gum with 54 pieces in it costs $21 or $18.90 via a subscription. Since starting, they've sold 10 million units, which may or may not justify their $15 million valuation. They likely want a Shark to help take them over the next big hump and get to $100 million in sales. Will a Shark chew on this deal?
Company Information
Video

Posts about Neuro on Shark Tank Blog
Neuro Shark Tank Recap
Ken and Ryan are seeking $750,000 for 5% of their business. They explain their backgrounds and how they wanted to be able to get a boost from a gum. Ryan shares the story of how he was injured in a snowboarding accident. He will never walk again. Despite the months following his injury being the lowest point in his life, he's managed to persevere with the help of family and friends. The Sharks are all moved by his story.
As for the business, they've done $3.5 million in sales through 8 months of 2019. They want a Shark to help them with their marketing budget and retail endeavors. They'd like a Shark to help navigate the retail landscape. Robert has concerns but he loves the guys and offers $1 million for 20%.
Kevin calls the valuation "stinky poo poo," but offers $750,000 for 5% with a 50 cent per unit royalty until he recoups $1 million. The guys counter with Robert and ask if he'll go to a $10 million valuation. Robert counters with a $7 million valuation and when they explain they can't go there, he goes out. They then turn to Kevin and decline his offer too.
Neuro Shark Tank Update
The Shark Tank Blog constantly provides updates and follow-ups about entrepreneurs who have appeared on the Shark Tank TV show. Even without a deal, the company continues to sell on Amazon and their website. Kent has workout videos on his YouTube channel and the company continues to be involved in their community. They recently helped paint murals on boarded up businesses after the rioting in Los Angeles in the wake of George Floyd's murder.
As of January, 2023, they have their products in 6500 retail locations, including 5000 CVS stores. Annual revenue is $6 million.