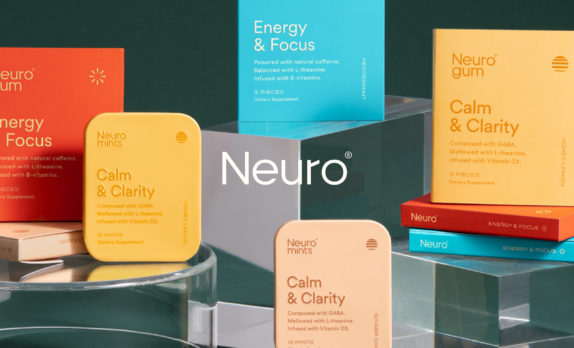 Kent Yoshimura and Ryan Chen, the founders of Neuro Gum, are old college buddies who share a passion for fitness, wellness and athletics. Kent does Muay Thai boxing and Judo. Ryan is a Kendo black belt and trained with the US Paralympic team. Both men led busy college lives what with studies and athletics. They often relied on energy drinks and supplements to give them an extra boost.
The two men were also into nootropics, blends of supplements that give desires physical and emotional states. They didn't like the sugar and chemicals in a lot of supplements and they didn't like the idea of nootropic pills. So they set out to create a line of supplements that would deliver the benefits in a clean way with gum and mints as the delivery system.
That's the genesis of Neuro Gum (and mints). To get things started, they tried doing a Kickstarter campaign, but the platform doesn't allow supplement start ups. They took things to IndieGoGo and raised just under $21,000 in three days. That was back in 2015. Fast forward to 2020 and they've come a long way: over 10 million units sold.
They have gum and mints containing caffeine,  L-theanine, and vitamins B6 and B12. Their formula is patent pending and they use a cold extrusion process (as opposed to heat extrusion) for better absorption. In January of 2020, they made a big splash by completely rebranding and changing the look of their packaging. Perhaps a Shark had a hand in that?
My Take on Neuro Gum
Nootropics is a hot trend the past few years. Everyone wants to take a pill (or chew a piece of gum) to feel more energized or calm or whatever. It's not for me. I believe a healthy, balanced diet is the best way to achieve physical and mental clarity.
That said, it's a HUGE market: $2.7 billion in 2018. Nootropic products with natural ingredients make up more than 50% of the market. People are buying and using these kinds of products – a lot of them. The popularity almost sank the company early on when they literally couldn't keep up with demand. They also passed on some venture money in 2016. Luckily they stuck with it and may land a Shark for their patience.
Will Sharks Chew on this Deal?
Neuro Gum is a business that is geared toward guest Shark Dan Lubetzky. He's a brand builder who likes all natural products. He's their best bet. Mark and Lori tend to shy away from companies making any kind of health claims. Kent and Ryan do a lot of testing, but I don't think it will be enough to persuade the regular Sharks.
Lubetzky is another story. Even with a $15 million valuation, he may have interest if he likes the guys. He'll want more than the 5% they're offering, but if he sees opportunity and a chance to impact the business, he may bite. I am afraid it's Neuro's only hope.