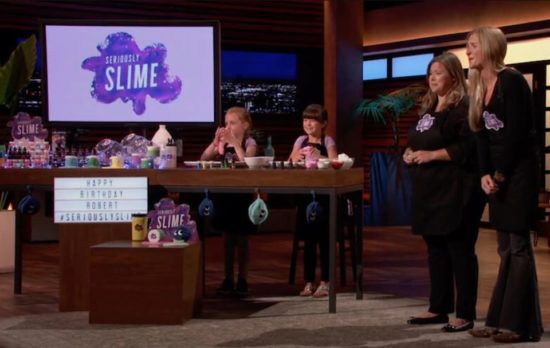 Shannon Valko and Sarah McDermott know a mess when they see one, so they created Seriously Slime to have a neat way to play with the gooiest of kids' crafts. Slime first came on the scene in 1978 when Mattel packed it in a can and sold it. Since then, it's become an iconic rite of childhood passage to make and play with it.
The advent of Youtube created a huge resurgence in home-made slime. A quick Google search yields page after page of how to videos and recipes for all different varieties of the stuff. Kids love it, but parents don't always want to deal with the mess. That's where Shannon and Sarah's idea comes in.
Instead of making a mess at home, parents can bring their kids to one of the two Chicago area locations and let them make a mess there. Kids make their own slime, play with it for a while, then  bring their goo home. They can also purchase pre-made slime and do it yourself kits. After Shark Tank, they'll also be able to purchase a special plush container on Kickstarter.
They started the business by testing out slime making parties in Shannon's coffee shop that also hosts a kids play space. The parties were an instant success. The women believe the future of their business is franchising. Whether you want to have a brick and mortar location, operate a mobile party business or operate pop-up shops, Shannon and Sarah are actively soliciting franchisees. Details on the website are slim about start up costs. They likely want a Shark to help them grow the franchise model.
My Take on Seriously Slime
My daughter had a little cottage industry going in middle school. She made gallons of slime and sold it to friends at school. Her final tally before she moved on from her business was about $500! She made it from Borax, Tide and a few other ingredients. Like Shannon and Sarah, she had many varieties: glittery, fluffy, glow in the dark and more. As a high schooler now, she's owngrown the stuff, but she still has a container in her room.
I'm not sure about the strength of this as a franchise concept. The sheer volume of do it yourself information shows it's not proprietary. While Shannon and Sarah have what appears to be a solid business, I'm not sure a franchise is the right way to go. Their products, other than their branded tee shirts, aren't proprietary either. There are dozens of slime making kits on the market. While I think it's probably a fun way to spend some time with kids, I don't think it will work.
Will Sharks Bite on this Business Opportunity?
I think the Sharks will have the same proprietary concerns as me. They may also have a problem with the $600,000 valuation too, but I don't know their sales. I can almost hear Kevin saying "what's preventing me from opening Mr. Wonderful's slime shop?"
I think it'll be an entertaining pitch, but I don't think the women will leave with a deal.